This is an archived article and the information in the article may be outdated. Please look at the time stamp on the story to see when it was last updated.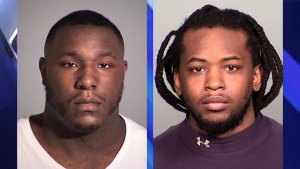 INDIANAPOLIS, Ind. — The two men accused of shooting into a home and killing 1-year-old Malaysia Robson face charges of murder and battery with a deadly weapon.
Marion County Prosecutor Terry Curry announced the formal charges in the case during a news conference Tuesday.
During a brief court hearing, Darrin Banks and Brian Palmer entered not guilty pleas, despite the fact that court records claim both men admitted to taking part in the deadly shooting.
"From our perspective we have no idea and can't conceive how a feud that starts on social media would escalate to this point," said Marion county prosecutor Terry Curry.
Prosecutor Curry says he will not seek the death penalty against Palmer and Banks because he doesn't think they intended to kill Malaysia.
"In Indiana, a murder can be charged as intentional, meaning it was your conscience objective to [kill a person] or it can be charged as knowing, which means that you are aware of a high probability that the conduct you are engaging in could result in death," Curry said. "It is not a matter that would be appropriate for the consideration of a death penalty."
Curry said the case would be under consideration for life without parole. The murder charge stems from Robson's death; the battery charge stems from the wounding of the girl's teenage aunt.
IMPD Chief Bryan Roach said during Tuesday's news conference that police were looking for Darrha Banks and Sydney Guynn, two women they believe were in the car with Darrin Banks and Palmer when the shots were fired on March 29. The women are considered persons of interest in the case and don't face criminal charges, officials said.
BREAKING: Police seeking two new persons of interest in death of 1-year-old Malaysia Robson.
Police believe Sydney Guynn and Darrha Banks we're inside the car at the time of the shooting.
They have not been accused of a crime but are asked to come forward and speak to police. pic.twitter.com/GQ2SaD1s9f

— Jesse Wells (@JesseWellsNews) April 17, 2018
Roach commended investigators with IMPD and the prosecutor's office for their work in solving the case. He added that the community played a major role in the investigation.
"I would be remiss for not acknowledging the importance of the community and their coming forward," Roach said. "This case isn't over. This is only the beginning, and the real work now starts with the prosecutor's office."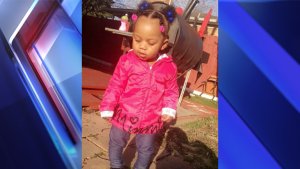 He's hoping the community will come forward to help find the women sought for questioning.
Indianapolis Mayor Joe Hogsett spoke briefly during the news conference, thanking the community for its efforts and warning others in Indianapolis against resorting to gun violence.
"If anyone decides to resolve a dispute using a gun, you are going to lose," Hogsett said.
Curry said, under state law, Darrin Banks and Palmer were allowed to legally drive around the city with AR-15-style rifles.
"Under Indiana law it was entirely legal for these two individuals to be driving around in the streets of Indianapolis with AR-15's.  I'll say it again. Under Indiana it is entirely legal for these two individuals to be driving around the streets of Indianapolis with an AR-15 rifle," said Curry.  "To me that raises the question of when are we going to have a serious conversation in the state and nationwide about sensible gun regulation."
According to court documents, witnesses said the shooting was related to a family dispute that started on social media and escalated to a fight at an apartment complex. The fight then continued through social media and phone calls.
On March 29, dozens of shots were fired into the home on North Wittfield Street. Malaysia died from her injuries. Her 19-year-old aunt was also hit.
Police were tipped off after a witness came forward and told them that Banks and Palmer were the ones involved in the shooting,
Investigators began to watch the suspects, and they initiated a traffic stop while both men were in Palmer's vehicle last week. Officers saw an AR-15 in plain sight in Palmer's car and both men were taken into custody.
According to court documents, when police interviewed Banks and Palmer separately, they admitted to firing at the house, knowing that several people were inside.
Both suspects' families have denied their involvement, saying the men were playing video games at the time of the shooting.