This is an archived article and the information in the article may be outdated. Please look at the time stamp on the story to see when it was last updated.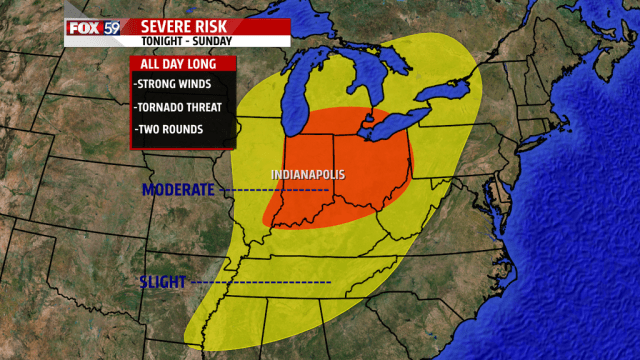 Strong storms expected to impact Indiana this weekend.  The city and state have now been upgraded to a moderate risk of severe weather with tornadoes being possible on Sunday afternoon.  There are a lot of variables still and the forecast has been evolving as we factor in the latest data.  At this point however it looks like we can expect two rounds of storms.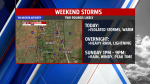 The first will arrive overnight tonight with a second stronger line of storms developing on Sunday afternoon.
For today, expect highs to hit the 60s with breezy winds out of the southeast.  There will be plenty of clouds around with a chance for an isolated shower.  Today will likely be the best outdoor day of the week.  That is set to change as we go into the overnight hours.  Southerly winds will continue to race through Indiana as a cold front develops off to our west.  As we wait for the front to sweep through tonight strong storms could develop along with rain showers.  This would be the first round of storms and could last from 2am through 7am on Sunday morning.  Rain could continue off and on throughout the rest of the morning.
The main line is set to arrive tomorrow afternoon.  The 2p to 9p window for the event is now a little earlier than timing from yesterday.  Strong winds, tornados and heavy rain will all be possible along with lots of lightning.  This is expected to be a dangerous storm and we are asking residents to be prepared for whatever the storm throws your way.  You should be prepared to go at least 2 days without power in your home.  This means you should make sure to stock up on easily prepared meals that do not require cooking.