This is an archived article and the information in the article may be outdated. Please look at the time stamp on the story to see when it was last updated.
SNOWY END TO JANUARY
Vigorous snow showers Thursday afternoon quickly coated the ground, reduced visibility and is mostly responsible for a huge traffic pile-up west of the city.   Waves of snow showers spread across the central Indiana peaking during the early afternoon.  The approach of an arctic front and the peak solar heating of the day combined to bubble up the snow showers.  Officially 1″ of snow coated the ground at the National Weather Service on the southwest side of the city.  Other areas barely received a coating. 
Snow showers will settle south a diminish after sunset.  Flurries are expected to linger until just after midnight.
The total snowfall for January reached 2.4″, only 28% the normal.  This is the least snowiest January in 12 years officially in Indianapolis.  (2.1″ January 2001). The .9″ of snow today dropped us from 13th least snowiest January to  the 35th.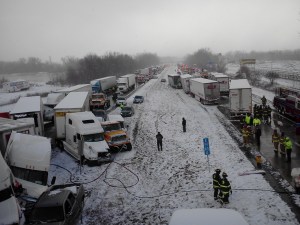 Heavy snow showers created near zero visibility and slick roads leading to a massive car and truck pile up Thursday.   10 people were injured and interstate I-70 was closed for several hours.
ARCTIC AIR MOVES IN
While the snow was falling so were the temperatures behind an arctic front sagging south through Indiana.  Bitter cold air behind the front dropped temperatures to -20° at Williston and Minot, ND.  Brisk winds will usher in the arctic air here and send the mercury down to 4° by early Friday morning.  Teh strong winds and bitter cold air will combine to produce a wind chill of -5° to -15° early Friday.  Several area schools are on a 2 hour delay – be sure to check with FOX59.com for the latest list.
SNOWY WEEKEND
Fast moving " clipper" systems are likely to sweep the state over the next several days.  The first arrives early Saturday with a round of snow.  A remarkable consensus of 5 computer models yield about a quarter of an inch of liquid available for snow.  These systems bring a more fluffy snow – snow ratio's of 12 or 15:1 are more likely.  Early indication is that up to 4″ of snow could be put down over the city.  Be sure to check back as we firm up the snow timing and amount Friday.