This is an archived article and the information in the article may be outdated. Please look at the time stamp on the story to see when it was last updated.
Rain will likely continue this evening with a few isolated rumbles of thunder mainly in southeast Indiana.  This portion of the state has been the only area where radar has detected a few lightning strikes.  But the cool and cloudy conditions will leave us with a dreary and wet evening. Temperatures remained in the mid to upper 40s for much of the afternoon.  By 4 PM, .39″ of rain had fallen in Indianapolis and another .15-.30″ of rain is still possible this evening.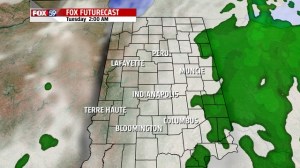 Rain is still likely by 10 PM for much of the state.  But that area of rain will push-off to the east.  We will see a lull in the rain after 1 AM and through much of Tuesday morning. Temperatures remain cool tonight and we'll drop to around 38° in Indianapolis, slightly warmer to the south.
Skies remain mostly cloudy on Tuesday morning but it should be a dry start to the day.  Spotty showers redevelop Tuesday afternoon as an upper level feature passes through the state.  This will not lead to much more accumulating rainfall with .01 to .10″ of precipitation possible.  Temperatures remain below average again on Tuesday and highs should reach 53°F.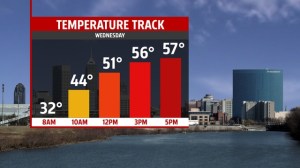 Temperatures bounce back into the mid to upper 50s on Wednesday with mostly sunny skies.  This only leaves u a few degrees below normal for this time of year (61°F is normal).
Thursday will be warmer and windy but highs around 70 sound pretty nice!  Winds will be coming in from the southwest at 10-20 mph ahead of a low pressure system headed our way. A front passes that night bringing back rain in the overnight hours and into Friday morning.