This is an archived article and the information in the article may be outdated. Please look at the time stamp on the story to see when it was last updated.
Get ready to enjoy a few more rays of sunshine today as a weak ridge of high pressure returns to Central Indiana.  Temperatures will be very similar to what we saw on Monday but the lower winds and presence of sunshine will make it feel much better outside today.  Temperatures should reach the low 40s this afternoon with west/southwest winds at 5-12 mph.
Clouds will start building in our southern locations late this afternoon and especially overnight as a low pressure system start passing just to our south.  This system is not taking a direct path through Central Indiana but we could see some effects of it for Wednesday morning.  Locations south of I-70 should see a thick deck of clouds to start Wednesday morning.  But the very southern tip of our viewing area could also see some passing snow showers.  But we are mainly talking about from Seymour to Bedford and to the south.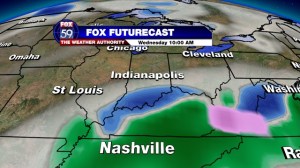 Temperatures climb a little bit more on Thursday ahead of our next clipper system.  Highs should reach the mid 40s.  But late Thursday, this next clipper will swing through and put us in more of a trough pattern. This will allow colder air to spill back into Central Indiana along with some periodic chances for snow from Friday through Saturday.  Spotty snow showers could easily lead to some slick spots on the roads as we end the work week and begin the weekend.