This is an archived article and the information in the article may be outdated. Please look at the time stamp on the story to see when it was last updated.
UPDATE (Nov. 1, 2021) — Rachel McAfee was sentenced to 16 years, including 12 in the Indiana Department of Correction and 4 on work release. She pleaded guilty to neglect of a dependent as part of plea deal.
INDIANAPOLIS, Ind. – Indianapolis Metropolitan police have arrested the mother of a 3-month-old infant who was found dead Tuesday.
IMPD said Rachel McAfee, 36, faces a preliminary charge of neglect of a dependent causing death. Her daughter, Emma, was found dead inside a vehicle near Township Line Road and 96th Street Tuesday afternoon.
Rachel's husband says his wife and daughter left their home on Creekstone drive on Indy's far east side Monday morning before Rachel suddenly stopped answering her phone.
Rachel McAfee was supposed to drop their daughter off with family members and then go to work for a meeting. However, she never showed up.
A neighbor spotted the vehicle Tuesday afternoon and called police. Emma McAfee was pronounced dead at the scene and Rachel McAfee was taken to the hospital for "cold-related injuries," police said.
It's not clear how long the child was dead before being discovered, but the girl's father admitted Wednesday that his wife suffered mental health issues long before the tragedy.
FOX59 talked to John McAfee after his wife and daughter went missing but before they were found and he said his wife struggled with alcoholism and postpartum depression.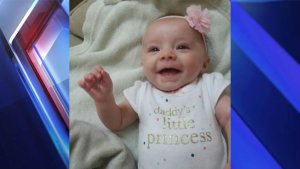 "She's drank since I've known her, but it's gotten out of control the last couple of years. That's kind of when all this started spiraling," said John McAfee.
Police reports show just last week officers were called to check on Rachel's emotional welfare.
"Postpartum depression can happen to any woman at any time," said Bethany Monte.
Monte, a midwife at Saint Vincent's, says it's important for all families to watch out for signs of postpartum depression and seek help.
"Certainly if a woman is saying she doesn't want to be around anymore or has thoughts of hurting herself or her children, call her provider or take her to the hospital," said Monte.
While it's not clear if postpartum depression is to blame for the death, the story can still serve as a tragic lesson to other new moms.
"We need to do a better job in the United States of preventing postpartum depression and watching out for signs and symptoms," said Monte.
FOX59 also spoke with Rachel's father after the arrest was made. He says the family has no idea what responsibility Rachel may have in the death and didn't want to comment until they knew more.
The Marion County Coroner's Office said an autopsy was pending on the 3-month-old to determine the cause of death. Rachel McAfee remained hospitalized Wednesday, police said.