This is an archived article and the information in the article may be outdated. Please look at the time stamp on the story to see when it was last updated.
UPDATE (Sept. 30, 2019) — Jessica Skeens was sentenced to 41 years.
UPDATE (Aug. 16, 2019) — Jessica Skeens was found guilty of neglect of a dependent resulting in death, operating a vehicle with a controlled substance, operating a vehicle while intoxicated, neglect of a dependent, and possession of marijuana. 
ORIGINAL STORY: 
MUNCIE, Ind.– Muncie police arrested a mother in connection with a crash that killed her 6-year-old daughter.
The crash occurred Sunday around 4:30 p.m. Investigators say the driver, Jessica Skeens, 28, of Farmland, was driving a van with her boyfriend, Nathaniel Jordan, 27, of Muncie.  Two of Skeens' children were in the middle seat in child restraint seats. Two other children were in the rear seat without child restraint seats.
Jordan is accused of punching Skeens and grabbing the steering wheel, prompting the crash. The van reportedly left the roadway, rolling over into a ditch and coming to rest on its wheels.
Skeens' 6-year-old daughter Taelyn Woodson was in the back seat, and she was partially ejected out of a window. She died from her injuries. The three other children were transported to IU Health's Ball Memorial Hospital for treatment of minor injuries.
Skeens was treated for a broken arm and Jordan was treated for minor injuries.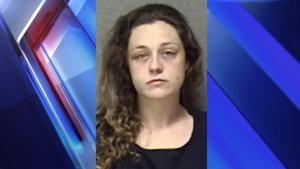 Sunday, Jordan was arrested on charges of neglect of a dependent causing death, felony criminal recklessness and domestic battery. On Tuesday, police announced Skeens had also been arrested. She faces preliminary charges of neglect of a dependent causing death, operating while intoxicated causing the death of another person, operating while intoxicated with a passenger less than 18 years of age and neglect of a dependent.
Police say Skeens' blood alcohol content was over the .08% legal limit at the time of the crash.