This is an archived article and the information in the article may be outdated. Please look at the time stamp on the story to see when it was last updated.
INDIANAPOLIS, Ind.– The mother of fallen IMPD Officer Rod Bradway, continues to make quilts for mothers who have lost a child in the line of duty. Her nonprofit organization is currently working on a quilt to honor fallen Boone County Deputy Jacob Pickett.
Sheri Bradway creates quilts for mothers all across the nation.  A Quilt for Mother's Tears has distributed honor quilts to nearly 600 fallen officer families.
Each year during National Police Week in Washington, DC, a quilt is given to the mothers of the fallen officers who have died in the line of duty.
"Until you experience the loss of your son, especially in the line of duty, there is no way that anybody can understand that except another mother," Bradway said.
Officer Bradway was killed in the line of duty in September of 2013 when he entered an apartment unit after hearing a woman scream for help.
After his death, Sheri turned to her love of quilting to help cope. She made a quilt to honor her son and in 2014, A Quilt for Mother's Tears was formed. Sheri believed all mothers of fallen officers killed in the line of duty should be offered a memory quilt of her own.
"It's all over the United States," Bradway said. "We have volunteer women that help piece them and quilt them. I couldn't do it all by myself."
Bradway said the death of  Deputy Pickett, hits close to home.
"I can feel the pain that we had when got the call about Rod, that drive to Indianapolis and the process before his funeral," she said. "I feel for the Pickett family; their world has been turned upside down."
Last year, Bradway presented a quilt honoring Lt. Aaron Allan, to Allan's mother.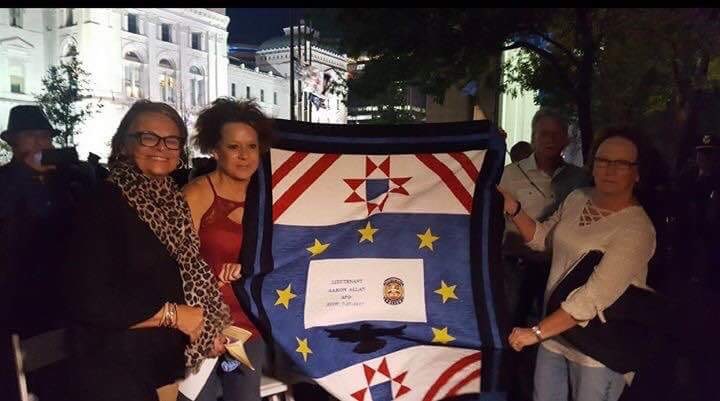 Bradway said in the coming weeks, she will present Deputy Pickett's honor quilt, to his family.
"The reaction is all the same," said Bradway. "We both have tears, we both give a hug and we both say, 'you understand.' It takes another mother to understand what that mother is going through."
To donate to A Quilt for Mother's Tears or to sponsor a quilt click here.