This is an archived article and the information in the article may be outdated. Please look at the time stamp on the story to see when it was last updated.
FORT WAYNE, Ind. – The mother of two Fort Wayne children found dead after a recent Amber Alert admitted to killing them during a jailhouse interview Monday.
During a jailhouse interview with WANE, Amber Pasztor said she smothered Rene Pasztor, 6, and Liliana Hernandez, 7, one by one in the backseat of a stolen car to keep them safe and usher them onto heaven.
Pasztor also explained some of the events leading up to the murders. She said she pushed in the door of the children's legal guardian, grabbed them, put them in the vehicle and just started driving. She was in Michigan when she heard about the Amber Alert that had been issued. That's when she said she decided to kill the kids. She said she didn't have the heart to shoot them, so she smothered them.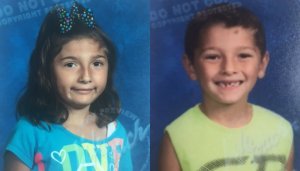 "They were in good hands, but I don't think they were safe," Pasztor told WANE. "My kids are in a better place … they're in heaven now. They don't have no worries no more."
Along with admitting to the murders of her children, Pasztor also admitted to fatally shooting her neighbor, Frank Macomber, 66, in a ditch off of Wallen Road in Fort Wayne. Pasztor has not yet been charged with Macomber's death.
Pasztor said she made the plans to kill Macomber days beforehand, when she arranged to go camping with him and have sex with him. Pasztor said she shot and killed Macomber with his own gun, then  took his car. She said she dumped the gun in a Michigan river.
Pasztor remains at the Elkhart County Jail, where she faces two charges of murder.