This is an archived article and the information in the article may be outdated. Please look at the time stamp on the story to see when it was last updated.
INDIANAPOLIS, Ind. (Jan. 21, 2015) – DeAndra Yates can hardly believe it has been almost one year since a single bullet changed her son and her life forever.
"I remember the day that I walked through Riley Hospital doors and they said Dre's been shot in the head," Yates said. "And I literally fainted at the door."
That was February 1, 2014. Then 13-year old DeAndre Knox was attending a house party which had been advertised on social media in the 3400 block of Aylesford Lane, on the city's northwest side. Somebody fired gunshots into the house, and one of the shots hit Dre in the back of the head.
Early on, doctors told DeAndra her son probably wouldn't survive. But the now 14-year old is still making progress at a rehabilitation hospital in Illinois.
"He's not speaking yet," Yates said. "But he's answering with head nods, yes and no. He's standing more and they said he's doing really well with building up his core muscles. So hopefully in the next few weeks he'll be able to stand without assistance."
Yates says police have told her they have interviewed several people, but no arrests have been made in her son's shooting.
To mark the February 1 anniversary of Dre's shooting, DeAndra is planning a youth basketball tournament in her son's name. The "Pray-4-Dre, Play-4-Dre" event will feature several rounds of 5-on-5 youth basketball.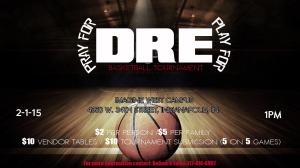 "In between each round, we're going to showcase some youthful talent," Yates said. "I have some step dancers coming out, some praise dancers. I have someone reading a poem."
The event is also meant to continue building a network of parents and other family members whose children have been killed or seriously injured by gun violence. Yates says such support from other moms going through similary situations has proven invaluable in the last 11 months.
"This is not something that I could have ever made it through without the support of family that I have, and the support from other moms," Yates said.
Yates, like many others reacted strongly Monday morning to the news of 13-year-old Ashton Harting's fatal shooting. Harting was the same age as her own son when he was shot.
"I just instantly thought about the mother's pain, and the grieving process," Yates said. "It's been almost a year for Dre and I probably cry almost every day."
Yates was planning to reach out to Ashton Harting's family this week.
"I would love if I could get in contact with them and just share some kind words with them," she said. "I'd love for them to come to the event, have their son's picture posted up with the rest of our kids."
Yates is collecting photos of gun violence victims, planning to put together a special memorial which will be presented at the Pray-4-Dre, Play-4-Dre event.
She hopes to make it an annual event. And while her son won't be able to attend this year, she hopes DeAndre will be able to make it in years to come.
Pray-4-Dre, Play-4-Dre will take place Sunday, February 1 at 1pm. It will be held at the Imagine West Campus, located at 4950 W. 34th St.
Tickets cost $2 per person, or $5 per family. Tournament submission cost is $10. Vendor table submissions will also cost $10.
Yates says money raised will help pay for funeral costs or other special expenses for families affected by violence.
You can learn more about the event by visiting this Facebook page.