This is an archived article and the information in the article may be outdated. Please look at the time stamp on the story to see when it was last updated.
MEMPHIS, Ind. – Multiple people were killed after a small plane crashed in southern Indiana Friday morning, authorities say.
Indiana State Police confirmed the small plane went down along Crone Road between Memphis and Borden around 11:30 a.m.
First responders from at least two fire departments responded to the scene along with state troopers and sheriff's deputies.
According to WDRB, Clark County Sheriff Jamey Noel believes the plane took off from Sellersburg, Indiana, which is about seven miles away.
Drone footage showed scattered debris that was unrecognizable as an aircraft. Noel said there were no survivors. State police described the aircraft as a "corporate-style jet" and said it was on its way to Chicago. It is believed that three people were aboard, including the pilot.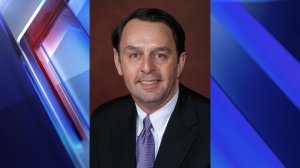 Ball State University said one of the victims, R. Wayne Estopinal, was a member of their Board of Trustees. They released this statement:
"It is with deep sadness that we inform you that R. Wayne Estopinal, a Ball State University Board of Trustee member and a 1979 graduate of our College of Architecture and Planning, has passed away in a plane crash today in southern Indiana. He was an exceptional leader and passionate supporter of the University. As we mourn this loss to our Ball State family, we ask that you keep Wayne's family and friends in your thoughts and prayers. As we learn additional information, we will communicate that to you."
The NTSB and FAA will handle the investigation going forward.
Clark Co. Sheriff says "multiple fatalities" in small plane crash west of Memphis, Ind. Debris scattered in wooded area. Sheriff "believes" plane took off from airport at Sellersburg, Ind., about 7 miles away. Says there's no debris you would recognize as from a plane. pic.twitter.com/eGgvE9NEBK

— Chris Turner (@ChrisTurnerWDRB) November 30, 2018