This is an archived article and the information in the article may be outdated. Please look at the time stamp on the story to see when it was last updated.
INDIANAPOLIS (May 15, 2014) — Detectives with the Indianapolis Metropolitan Police Department have apprehended a man who police say is a witness to a murder.
The man was taken into custody after a traffic stop on the northwest side. Police say it happened just before 10 a.m. near Lafayette Road and I-65 Thursday. Detectives started following a maroon Ford minivan on 38th and Michigan streets. When officers pulled the vehicle over, the man immediately took off. He was cornered by several officers after jumping over a fence and throwing away a gun, said police.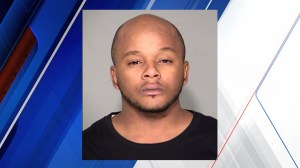 Delman Alexander was taken into custody for several arrest warrants on his record including resisting officers and driving with a suspended license.
Two people in the van were questioned and released. They told officers they were giving Alexander a ride.
Note: An earlier report indicated the man arrested was a murder suspect.  However, police clarify he is a murder witness. 
Photo courtesy of a witness at the scene 
Previous Story: