This is an archived article and the information in the article may be outdated. Please look at the time stamp on the story to see when it was last updated.
BLOOMINGTON, Ind. (Oct. 21, 2015) — Bloomington police say an abusive relationship led to a murder-suicide that claimed the life of an Indiana University student.
On Sept. 30, 2015, Yaolin Wang and Chuanlin Xiao were found dead inside a Bloomington apartment located on Goodnight Way. Wang had been stabbed to death; Xiao hanged himself, police said. Bloomington police said initial information showed the two were in a relationship for approximately six months after meeting at a community college near Seattle, Wash.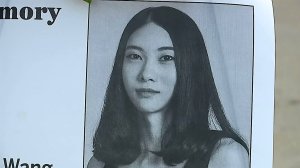 Additional interviews with acquaintances in Bloomington and Washington state revealed that "relationship" was a misnomer. After meeting in Seattle, it appears Xiao forced himself into Wang's life, moving into her residence and refusing to leave. Police uncovered evidence that Xiao tried to control Wang and abused her physically and mentally.
Wang didn't want anyone to know about the problems she was having, investigators said, and didn't seek help. Friends tried to intervene; Xiao told them he "came from a powerful family in China" and threatened retaliation against their families.
Wang visited family in China over the summer and then moved to Bloomington for the fall semester. Xiao followed her there, moved in and again refused to leave. Wang discovered her passport was missing, police said, because Xiao had taken it. He also hid makeup from her and may have been forcing her to provide him with money. Xiao didn't have a job and wasn't enrolled as an IU student. Wang didn't want to get police involved because the issues with Xiao were "too personal." She didn't mention problems with Xiao while visiting family over the summer.
On Sept. 19, Xiao left Bloomington and went back to Seattle. He returned unannounced on Sept. 30; Wang sent a friend a text message that said, in effect, "my nightmare is back." She attended a business class on that day; around 9:20 p.m., dispatchers received a 911 call from someone who'd discovered Xiao's body in the stairwell. Wang was then found stabbed to death on a nearby patio.
Bloomington police noted that October marks National Domestic Violence Awareness Month and said  there are several resources available for people in abusive relationships:
Online Resources
National Coalition Against Domestic Violence
www.ncadv.org/
The National Domestic Violence Hotline
www.thehotline.org/
Campus and Community Resources
Middle Way House
www.middlewayhouse.org/
Advocacy services available (no cost). Staff will also accompany individuals to a medical exam.
812-336-0846, 24 Hour Crisis Intervention
Student Advocates Office
SAO provides specially trained advocates to assist students who have experienced sexual misconduct to connect them with available resources on and off campus, to assist in obtaining interim measures, to assist them in the applicable conduct process, and to address their academic and other university related concerns.
812-855-0761/ readvo@indiana.edu
Office of International Services
The Office of International Services can assist students with visa and immigration advising and other support services for international students.
812-855-9086 or ois@iu.edu
Legal Services
Student Legal Services
Attorneys and law students provide legal assistance and representation to students free of charge, including walk-in consultations and assistance with filing applications for Protective Orders after sexual assault. In matters involving two students, information about how to seek legal protection will be provided, but legal representation cannot be provided.
812-855-7867 / stulegal@indiana.edu
Intakes via website: www.indiana.edu/~sls/
Legal assistance and representation information can also be obtained by contacting the Monroe County Bar Association.
http://monroecountybar.org/
Protection Orders
If you need to file a Petition for an Order of Protection, you can do so at the Monroe County Clerk's Office.
Monroe County Clerk's Office
301 N. College Ave., Room 201
Bloomington, IN
812- 349-2614
Protective Order Project
Student volunteers from the Maurer School of Law help victims of stalking, sexual assault, and dating or relationship violence get and enforce civil protective orders for no cost.
812-855-4800/ pop@indiana.edu
Medical Services
IU Health Center
812-855-4011, Available M-F 8AM-4:30PM
Services available to IU Bloomington students, student spouses, and dependents
IU Health Bloomington Hospital Emergency Department
812-336-6821, Available 24 hours a day
Confidential Counseling Services
IU Counseling and Psychological Services (CAPS), Sexual Assault Crisis Services (SACS)
Individual or group counseling (no cost) provided by specially trained counselors.
812-855-8900, 24 hour crisis line
812-855-5711, for appointments
Employee Assistance Program
Provides professional and confidential counseling to full time employees, medical residents, and graduate appointees and their household members.
888-234-8327