This is an archived article and the information in the article may be outdated. Please look at the time stamp on the story to see when it was last updated.
INDIANAPOLIS, Ind. – Indiana State Police responded to the NAACP Thursday after the organization voiced its concerns about how officers are handling the Flora house fire that killed four young girls.
Thursday, during the kickoff to the Indiana State NAACP Convention, leaders questioned why more hasn't been done in determining who set the fire and why family members have been shut out of the investigation process.
Conference President Barbara Bolling-Williams says she believes authorities have "bungled" the investigation. She says she believes investigators may be trying to cover up their missteps.
"Too many questions after a year? We should be wrapping things up now," said Bolling-Williams. "I don't even want to live in a community where this is allowed to happen and you couldn't give me any answers. Why would I even want to stay there?"
Williams says the organization plans to keep pressure on investigators until the case is solved.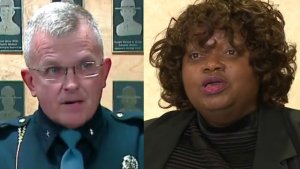 "A lot of unanswered questions are out there, and the NAACP is going to do all we can to make sure that whoever is responsible for this, this heinous act, that this comes to light and is dealt with appropriately," said Bolling-Williams, a member of the NAACP's National Board of Directors.
FOX59's Aishah Hasnie spoke to Bolling-Williams last week about the intentions of the NAACP and the victims' family
State police held a press conference Thursday in response to the NAACP's remarks. Doug Carter, ISP Superintendent, started the presser by saying how much the Flora and Delphi cases have affected him.
"I don't think anything has ever bothered me more than what's occurred in Carroll County, Indiana, in my entire lifetime," said Carter.
The officer went on to deny any sort of cover-up in regards to the case.
"Even the notion that there would even be a perception of a cover-up in regards to an investigation involving four little girls is not only unsubstantiated, but, ladies and gentleman, it strikes me at the very core of who I am," said Carter. "I would give my life to find out who killed those little girls."
Carter said he hopes to, one day, be able to tell the family and the public what ISP knows and when they knew it, but he cannot today. He went on to address and deny the accusations that the lack of developments is about race.
"Even the inference that it's about race is so very wrong. It's never mattered to me and never will."
Carter said he encourages the people at the NAACP to share their thoughts and spread awareness of the case.