This is an archived article and the information in the article may be outdated. Please look at the time stamp on the story to see when it was last updated.
While Indianapolis tennis fans no longer have the luxury of having their own professional tennis tour stop, one of the best tournaments of the year is held each August in Cincinnati.  The Western & Southern Open completed a record-breaking week by hosting the finals matches Sunday. Fourth-seeded Rafael Nadal took unseeded-American John Isner's best shot, but Nadal won tiebreakers in both sets to win the match and his first Western & Southern Open Title 7-6 (8), 7-6 (3).
For the week, 186,000 fans attended the event at the Linder Family Tennis Center.  Tournament records were set for single session, single day, total week and sellouts during the 16 session of the event in Cincinnati.
Nadal is a 12-time Grand Slam Champion and is now riding a wave of momentum as he was the winner of back-to-back titles at the Rogers Cup (Montreal & Cincinnati). "The only thing that means that is I am playing well," said Nadal. "Hopefully I can continue playing well in the U.S. Open in a week," added Nadal according to a release from the Western & Southern Open.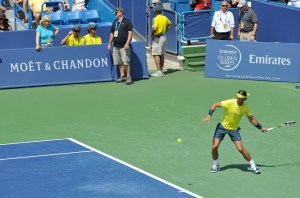 Also in Cincinnati Sunday, The Bryan Brothers (Bob & Mike) captured their fourth Western & Southern Doubles title by winning a super tiebreaker over Marcel Granollers and Marc Lopez of Spain 6-4, 4-6, (10-4).  The Bryan's were regulars at the RCA Tennis Championships in Indianapolis during the late-90's when their career was starting to take off.
In the women't final, #2 seed Victoria Azarenka defeated top-seed Serena Williams 2-6, 6-2, 7-6 (6).  It was the third victory by Azarenka over Williams in their 15 career meetings.