This is an archived article and the information in the article may be outdated. Please look at the time stamp on the story to see when it was last updated.
Do you wait to make an important decision before reading your horoscope? Have you ever turned down a date because your zodiac signs weren't compatible? Do you have a little tattoo of your zodiac sign on your ankle?
If so, we have very bad news for you.
NASA recently revealed that there are actually 13 zodiac signs, and now everything you ever knew about your horoscope has changed.
Here's what happened.
3,000 years ago, astronomers didn't totally understand how the Earth, sun, and stars moved. They also didn't realize how vast the universe is.
At this time, the Babylonians already developed a 12-month calendar (based on the phases of the moon). So they divided the sky into 12 equal parts by looking at 12 distinct constellations by which the sun appeared to travel over the course of a year, according to NASA.
"But even according to the Babylonians' own ancient stories, there were 13 constellations in the zodiac," NASA report.
So they decided to pick one, Ophiuchus, to leave out in order to make a tidy match with their 12-month calendar.
"The Babylonians ignored the fact that the sun actually moves through 13 constellations, not 12. Then they assigned each of those 12 constellations equal amounts of time," according to NASA.
NASA decided to do the math and incorporate Ophiuchus into the zodiac sign chart.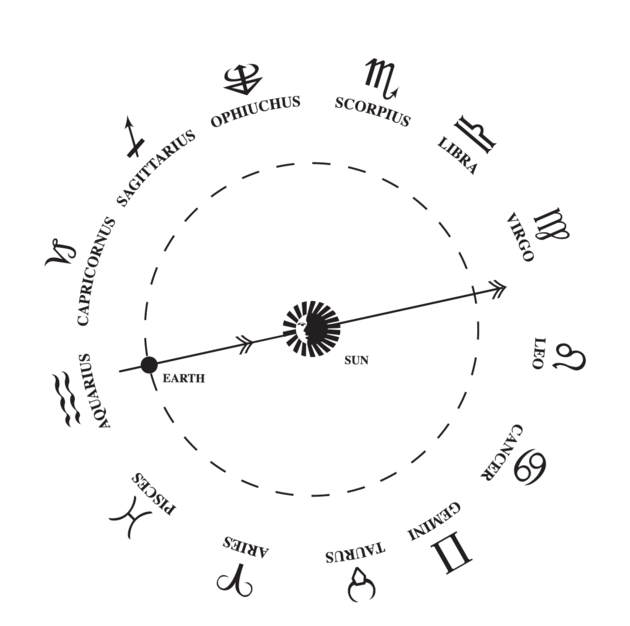 https://twitter.com/FantasyMinds/status/778374399506452480
As you can imagine, many people are very upset about this!
Disconcerted to learn that my life has been a lie: I'm no longer a Sagittarius, apparently I'm an Ophiuchus

— Dr Danielle Dove (@Danielle_M_Dove) September 22, 2016
Nah Danielle ~ once a #Sagittarius, always a Sagittarius! Plus, it's impossible to pronounce that Ophiuchus tounge twister

— Andrew Syiek (@PhotoArtShow) September 22, 2016
Ophiuchus? I don't even know us! @DanielleMNorman

— Tony Wolf (@tonywolfness) September 22, 2016
Moment of silence for everyone's chavtastic zodiac tattoos, now the new star sign has been added! #ophiuchus

— Rhian Sugden (@Rhianmarie) September 20, 2016
My new star sign is some dude using a very confused snake to dry his testicles after getting out of the shower? Awesome! #ophiuchus pic.twitter.com/caixdwedo0

— James G. Alinski (@jazgar) September 20, 2016
So apparently NASA decided to change everybody's zodiac signs RIGHT AFTER I got my Aries tattoo lmao love my life

— Larissa Creighton (@larisscreighton) September 17, 2016
IM LITERALLY THROWING A FIT ABOUT THE NEW ZODIAC CHANGE

— solvs ♑️ (@soul_vay) September 17, 2016
But NASA doesn't want any part of all this mess, and they're emphasizing that they didn't create a 13th zodiac sign – they just did the math!
Have you heard that we changed the zodiac signs? Nope, we didn't…we just did the math. Info: https://t.co/TsBgxmojZZ pic.twitter.com/sf62deofox

— NASA (@NASA) September 22, 2016
And hey, if you are now an Ophiuchus instead of a Scorpio, it's not too terribly bad.
According to Bustle, you're "someone who wears bright colors, is considered wise, leaves the home young, generally has good fortune follow them, is open to change, and has a great sense of humor."