This is an archived article and the information in the article may be outdated. Please look at the time stamp on the story to see when it was last updated.
By Lawrence Crook, Jean Casarez and Chelsea J. Carter
CNN
(CNN – Nov. 6, 2014) — A Philadelphia police detective made a promise to a devastated mother: "I'm bringing your girl home."
The promise has been kept.
Carlesha Freeland-Gaither was found alive, three days after her abduction was captured on a surveillance video in Philadelphia and sparked a manhunt, FBI agent Ed Hanko told reporters.
Freeland-Gaither was found in Jessup, Maryland, southwest of Baltimore, and a suspect was taken into custody, he said.
The suspect has been identified as Delven Barnes, 37, Hanko said.
Barnes is being held on a Virginia warrant for attempted capital murder and other charges in another case, and "then he will be charged federally with the crimes here in Philadelphia," Hanko said.
Authorities credited the public's help in identifying the suspect and his vehicle.
"Tonight we surveilled that vehicle in the area of Jessup, Maryland," Hanko said.
"… When the subject exited the vehicle, that's when Ms. (Freeland-Gaither) was recovered."
Mother hugs detective: 'He brought my baby home'
Freeland-Gaither is in "good shape" but has some injuries, he said. She has been taken to a hospital, and "she is talking to the agents," according to Hanko.
Howard County General Hospital said Freeland-Gaither was released early Thursday.
Earlier, her mother, Keisha Gaither, thanked authorities and the public for their help in finding her daughter.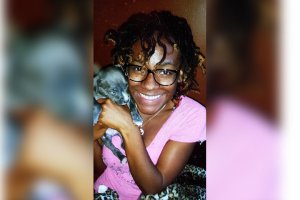 Then she hugged the unidentified detective.
"He brought my baby home," she said.
The kidnapping is believed to be a "stranger abduction," Philadelphia Police Commissioner Charles Ramsey said on CNN's "AC360" on Wednesday night.
"That's the way it looks now. Of course, we are in the process of interviewing her now," he said.
Video shows woman being forced into car
The 22-year-old woman worked as a nurse, her family told CNN affiliate WPVI, and was just blocks from her Philadelphia home when she was abducted Sunday night.
Video, released by police, shows Freeland-Gaither tussling on the ground with her abductor before being forced into a four-door vehicle.
Her glasses and cell phone were dropped onto the road during the struggle. Just before the vehicle pulled away, she broke out one of the passenger side windows, police said.
Early the next morning, someone used her bank card at an ATM about 75 miles away in Aberdeen, Maryland, according to reports.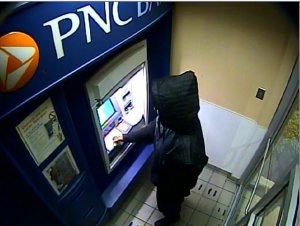 Authorities had earlier said the ATM card was used Tuesday. Philadelphia police Chief Inspector Dennis Wilson didn't say how the card was used or whether cash was withdrawn. But he said surveillance video showed a man "similar" to one who police say dragged and abducted Freeland-Gaither.
Suspect also charged in Virginia abduction
Even before his arrest in this case, Barnes was a wanted man — in connection to horrific allegations out of Virginia.
In addition to attempted capital murder, Barnes faces a host of charges in Charles City County, including abduction, forcible rape and malicious wounding with a chemical, according to Sheriff's Office Capt. Jason Crawley.
It all stems from a case that began when the family of a 16-year-old girl reported her missing on October 1.
Two days later, the girl escaped Barnes' home and stumbled into a business 2 miles away, naked, bleeding and burned. Crawley told CNN that the teenager had third-degree burns after being doused with bleach and gasoline, then set on fire.
More than a month later, the 16-year-old girl is still in a hospital, in good condition, undergoing rehab, according to the sheriff's captain.
Crawley said the Charles City County Sheriff's Office expects to have Barnes in its custody to face these charges sometime Thursday.
CNN's Ed Payne, Jason Hanna, Ray Sanchez, Dana Ford, Greg Botelho and Tina Burnside contributed to this report.