This is an archived article and the information in the article may be outdated. Please look at the time stamp on the story to see when it was last updated.
INDIANAPOLIS, Ind. (Aug. 19, 2015) – Former Subway spokesman Jared Fogle arrived in federal court in Indianapolis Wednesday morning to hear charges against him in connection with a child pornography case.
FOX59 first reported that Fogle would plead guilty in the case. He appeared in front of federal magistrate Mark Dinsmore during an 11 a.m. hearing. A not guilty plea was entered on his behalf as a formality. The judge read the counts against Fogle, who said he understood the allegations and waived a formal reading of charges. He will be monitored electronically.
Fogle intends to plead guilty in the case based on the terms of the plea agreement filed Wednesday, his attorney said. It's up to the court to accept Fogle's plea deal during a change of plea hearing. Attorney Jeremy Margolis said Fogle has a "medical problem" and "expects to go to prison." He said Fogle acknowledged wrongdoing and provided a statement to the media:
"Jared Fogle is agreeing to plead guilty to the charges filed against him today. In doing so, Jared is accepting responsibility for what he has done. He is also volunteering to make restitution to those affected by his deplorable behavior. While Jared fully recognizes that such monetary contribution will not undo the harm he has caused, he is hopeful it will assist these individuals as they try to move forward with their lives.

"Jared also understands that he requires significant psychiatric medical treatment and counseling. He has already begun that process by being extensively examined by a world-renowned expert in sexual conditions in order to chart a course to recovery. It is Jared's intent and goal to become healthy again.

"Most importantly, Jared understands that he has hurt innocent people, vulnerable people, and his family. He has expressed remorse to me and to his loved ones, and will, when given the opportunity, express that remorse to this court and to the people he has harmed. His intent is to spend the rest of his life making amends."
U.S. attorney Josh Minkler said Fogle faces a sentence between 5 and 12 years in prison. Minkler said the case was treated "exactly like any other child exploitation case." He outlined an extensive amount of materials and electronic data authorities combed through during the course of the invesigation. It included more than 159,000 text messages, more than 27,000 emails, more than 47,000 images and more than 3,300 videos.
Minkler said the investigation was a joint venture involving the FBI, Indiana State Police and Indianapolis Metropolitan Police Department.
The Fogle family released a statement following Wednesday's hearing:
"Our family is shocked and profoundly disappointed in Jared's abhorrent criminal behavior and we are very concerned for the well being of those affected by his conduct. At the same time, we are gratified that Jared is accepting responsibility for what he has done by agreeing to plea guilty to the charges filed today and by volunteering to make restitution to the victims. We are also gratified that he is seeking medical treatment. We hope that he will become healthy again and are confident that after he serves his sentence, he will continue to make amends. We look forward to the day that he rejoins our family and society.

"We will not be granting any media interviews. Our plan is to comfort each other and heal and we ask that the media respect our family's privacy during this very difficult time."
Fogle is accused of distributing and receiving child pornography and conspiracy to distribute as well as engaging in illicit sexual conduct with minors, according to court documents.
PDF | Fogle Court Documents (Contains material that some viewers may find graphic)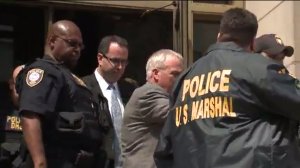 Documents said Russell Taylor, the former director of Fogle's Jared Foundation, recorded minors without their knowledge. He then stored videos and images on his computer and other devices. Multiple hidden cameras recorded the footage, which court documents described as sexually explicit. Court documents said Fogle knew about Taylor's activities regarding the nude videos. He "made comments approving of this activity" and "discussed some of the minors" by name.
"The defendant chose to benefit from production of the nude videos by obtaining access to a significant amount of such material," court documents said. Prosecutors noted that Fogle didn't access all of Taylor's material and noted that if Fogle had reported the activity to authorities, later explicit material would not have been produced.
Taylor is also accused of providing Fogle with other depictions of "commercial" child pornography showing minors engaging in sex acts. That material, produced  by other sources, included minors as young as 6 years of age.
Court documents also detail alleged sexual encounters involving Fogle and minors. The activity began in 2007 and continued through June 23, 2015, prosecutors said. Fogle "repeatedly engaged in Internet social networking and traveled for the purpose of engaging in commercial sexual activity."
He paid for some of these encounters at New York's Plaza Hotel, court documents allege. One of the girls he paid for sex was an underage prostitute; Fogle sent her a text message saying he would also pay her if she could find an underage girl for him to have sex with. Fogle, according to court documents, said he would accept a 16-year-old girl, adding "the younger the girl, the better."
He frequently requested that the girl find him others to have sex with and asked for pictures. Fogle "repeatedly made travel plans in order to have his business trips coincide with his pursuit of commercial sex acts," court documents said. He later had sex with a minor at New York's Ritz Carlton Hotel, court documents said, an encounter for which he paid.
Between June 2011 and 2013, prosecutors said Fogle sent messages to other escorts and solicited them to find girls as young as 14 and 15 years old so he could pay them to have sex.
On multiple occasions, Fogle expressed his desire to engage in sex acts with minors, court documents said.
PDF | Fogle plea deal (Contains material that some viewers may find graphic)
The first count carries a prison term between 5 and 17 years and a fine of up to $250,000. The second count carries a penalty of up to 30 years in prison and a $250,000 fine. According to documents pertaining to Fogle's plea deal, prosecutors want at least a 12-year sentence while Fogle's attorneys recommend a five-year sentence. After the prison term, Fogle would be under supervised release.
He would also be prohibited from possessing any obscene material, child pornography, child erotica or nude images of minors as part of the agreement and will have to undergo sexual disorders treatment. He would also have to register as a sex offender and be barred from having unsupervised contact with minors, among other provisions.
In addition, Fogle would have to pay $1.4 million in restitution–$100,000 to each of 14 minor victims involved in the case. The money would be used to provide counseling, support and other services.
Authorities raided Fogle's home last month in connection with a child pornography case. FBI sources confirmed state and federal investigators served warrants at the Zionsville home and seized computers and DVDs.
Earlier this year, Taylor, the former director of the Jared Foundation started by Fogle, was arrested in a child pornography case. He was accused of possessing and producing child pornography. Investigators said a search of Taylor's home turned up more than 500 videos with images of child pornography. In May, Taylor unsuccessfully tried to kill himself while in jail.
Fogle gained national fame for "the Subway diet" after eating Subway sandwiches to lose weight while at Indiana University. He later became a visible presence in Subway ad campaigns, pitching the restaurant's sandwiches and touting their health benefits.
Subway suspended its relationship with the spokesman shortly after the July raid. On Wednesday, the company said it had ended its relationship with Fogle and had no further comment.
In 2007, Fogle was added to the Hall of Fame at North Central High School, his alma mater. On Wednesday, the school said he had been removed.
[findthebest id="kaCmA7ESxrD" title="Jared Fogle" width="600″ height="560″ url="//www.findthebest.com/w/kaCmA7ESxrD" link="http://famous-people.findthebest.com/l/1363/Jared-Fogle" link_text="Jared Fogle | FindTheBest"]