This is an archived article and the information in the article may be outdated. Please look at the time stamp on the story to see when it was last updated.
INDIANAPOLIS, Ind.– Two additional suspects face charges in the November 2017 murder of Dr. Kevin Rodgers.
Marion County Prosecutor Terry Curry announced the new charges Friday against Devon Seats, 17, and Nehemiah Merriweather, 18.
Seats faces charges of murder, felony murder and burglary. Merriweather was charged with felony murder and burglary.
Court documents show Seats is accused of smashing a rock through a window in order to gain entry into the home. He's also accused of being the trigger man.
After Seats entered the home, court documents show the other suspects heard two gunshots before running back to their car. When Seats got to the car, he allegedly told them, "I had to shoot him, he seen my face."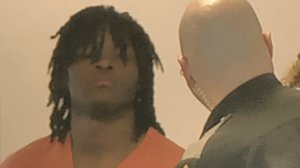 Ka'ron Bickham-Hurst, 18, is also charged with murder and burglary in the case. He faces a burglary charge and four counts of theft related to several other cases as well. A fourth suspect who is 15 years old is facing charges but a motion to wave his case to adult court is still pending.
Rodgers, a well-known Indianapolis doctor, was killed on Nov. 20, 2017 after suspects allegedly broke into his home near Eagle Creek and shot him to death.
Officers searched three cars for evidence following the incident. In one car, they found stolen rings from the doctor's home. In another, they found a gun matching shell casings found in the house.
Court documents allege the suspects went on to burglarize two other nearby homes after the shooting.
Dr. Kevin Rodgers was the program director of the emergency medicine residency at the IU School of Medicine and the president of the American Academy of Emergency Medicine. He was also an assistant lacrosse coach at Cathedral High School.
Merriweather and Seats are being held without bond.