This is an archived article and the information in the article may be outdated. Please look at the time stamp on the story to see when it was last updated.
The NES Classic was nearly impossible for most people to find during the 2016 holiday season, but having a little patience could pay off for those who still want to get the retro gaming console.
Nintendo revealed Tuesday that the company would restart production of the tiny console, which is a miniature version of Nintendo's signature Nintendo Entertainment System from the 80s. It comes pre-loaded with 30 games.
The NES Classic hit stores last November, but demand far outpaced supply, and buying one of the systems for a reasonable price proved difficult. The system, which retailed for $60, routinely goes for upwards of $200 from third-party sellers on Amazon and eBay. Nintendo discontinued the product months after launch, saying the system was meant to be available for a limited time only.
That's about to change.
Nintendo said the NES Classic would go back into production soon, with new units hitting store shelves in summer 2018. The company didn't give a precise release date, saying more information about the timing would be announced in the future.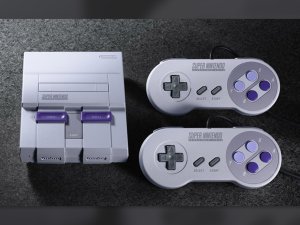 Meantime, the company is getting ready to release the follow-up to the NES Classic, the Super Nintendo Classic based on the company's 16-bit gaming system from the 90s. The SNES Classic launches on Sept. 29, and Nintendo has said that the SNES version will be easier to find.
The company planned to cease production of the Super Nintendo Classic at the end of the year, but demand has been "incredible," and Nintendo will ship additional units of the system into 2018. The company said it would ship more units of the SNES Classic than it originally shipped of the NES Classic.
The Super Nintendo version features 21 pre-loaded games from the system's classic library. It retails for $80 and, unlike the NES Classic, comes with two controllers.
Here are the games included on the Super Nintendo Classic:
Contra III: The Alien Wars
Donkey Kong Country
EarthBound
Final Fantasy III
F-ZERO
Kirby Super Star
Kirby's Dream Course
The Legend of Zelda: A Link to the Past
Mega Man X
Secret of Mana
Star Fox
Star Fox 2
Street Fighter II Turbo: Hyper Fighting
Super Castlevania IV
Super Ghouls n Ghosts.
Super Mario Kart
Super Mario RPG: Legend of the Seven Stars
Super Mario World
Super Metroid
Super Punch-Out!!
Yoshi's Island
And here's the roster for the NES Classic:
Balloon Fight
Bubble Bobble
Castlevania
Castlevania II: Simon's Quest
Donkey Kong
Donkey Kong Jr.
Double Dragon II: The Revenge
Dr. Mario
Excitebike
Final Fantasy
Galaga
Ghosts n' Goblins
Gradius
Ice Climber
Kid Icarus
Kirby's Adventure
Mario Bros.
Mega Man 2
Metroid
Ninja Gaiden
Pac-Man
Punch-Out!! Featuring Mr. Dream
StarTropics
Super C
Super Mario Bros.
Super Mario Bros. 2
Super Mario Bros. 3
Tecmo Bowl
The Legend of Zelda
Zelda II: The Adventure of Link