This is an archived article and the information in the article may be outdated. Please look at the time stamp on the story to see when it was last updated.
SPRINGFIELD, Mass. (May 16, 2015) — Massachusetts police executing a search warrant at a drug suspect's home say they found a gun inside a hollowed-out Bible on his nightstand.
Police say an officer involved in Wednesday night's raid in Springfield opened the Bible and found the pages had been cut out to make room for a 9mm Smith & Wesson semi-automatic handgun and a clip containing 10 rounds of ammunition.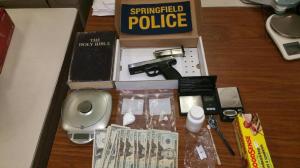 Police say they also found cocaine packaged for sale, scales, cash and other drug paraphernalia in Jimmie James' apartment.
James is scheduled to be arraigned Thursday on several charges, including improper storage of a firearm.
It was not immediately clear if James has a lawyer.