This is an archived article and the information in the article may be outdated. Please look at the time stamp on the story to see when it was last updated.
HUDSON, Fla. (Jan. 7, 2015) – The t-shirt definitely tells the story.
Police in Pasco County, Fla., arrested John Balmer at a Kmart on Monday, reports WTVT. His t-shirt read "Who Need Drugs? No, seriously, I have drugs."
Police said the t-shirt was accurate—according to the police report, he tried to give someone a small bag of drugs at the store, although the person didn't accept it.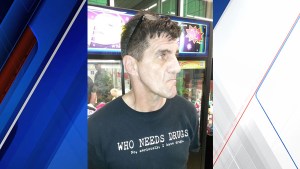 He put the bag near a checkout and paid before a deputy stopped him. The deputy found marijuana and methamphetamine in the bag.
Balmer was arrested on two possession charges, police said.