This is an archived article and the information in the article may be outdated. Please look at the time stamp on the story to see when it was last updated.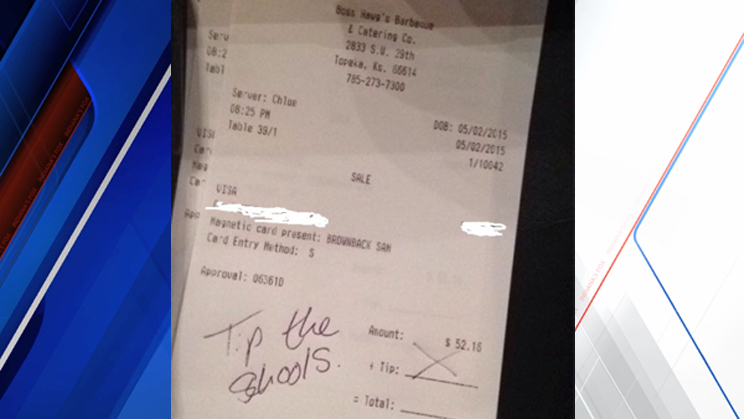 TOPEKA, Kan. (May 4, 2015) – A restaurant waitress didn't want a tip from Kansas Gov. Sam Brownback. Instead, she asked him to give more money to schools.
Chloe Hough was working her last shift Saturday night at Boss Hawg's Barbeque in Topeka when Brownback stopped for dinner. She posted a photo on Facebook of the receipt, where she'd crossed out the tip line and written "tip the schools" beside it.
Hough told KSNT that she didn't know Brownback was coming to the restaurant with his family. She told the TV station she felt like she had to say something or she would regret it.
Kansas faces a budget deficit, and Brownback has cut back on public education. In March, he signed a measure to change the formula for public education funding. The move essentially freezes funding levels for two years. Educators criticized the bill, saying it ignores the needs of individual school districts.
Hough said she believes Brownback's policies are hurting Kansas students.