This is an archived article and the information in the article may be outdated. Please look at the time stamp on the story to see when it was last updated.
The U.S. Marine Corps is welcoming its newest and youngest member! A 9-week-old English bulldog is getting ready to report for duty.
He's been chosen as the new mascot and will replace Sergeant Chesty the 13th.
The puppy will begin his duties late next month. He's in obedience training until then.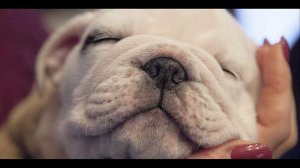 "We do like what we do with regular recruits, our human recruits. We're going to take a good civilian and we're going to make him a little bit better and turn him into a U.S. Marine," said Captain John Norton.
The new puppy will be called Chesty the 14th. The mascots are named after one of the most highly decorated combat marines in the Corp history.