This is an archived article and the information in the article may be outdated. Please look at the time stamp on the story to see when it was last updated.
INDIANAPOLIS, Ind. (March26, 2015) – The NCAA and Salesforce are raising concerns about traveling to Indiana after Governor Pence signed the Religious Freedom Restoration Act into law Thursday morning.
Immediately after the signing, Marc Benioff, the CEO of Salesforce, announced that he is canceling all programs that require his customers/employees to travel to Indiana.
Today we are canceling all programs that require our customers/employees to travel to Indiana to face discrimination. http://t.co/SvTwyCHxvE

— Marc Benioff (@Benioff) March 26, 2015
In the afternoon, the NCAA released this statement:
"The NCAA national office and our members are deeply committed to providing an inclusive environment for all our events.  We are especially concerned about how this legislation could affect our student-athletes and employees.  We will work diligently to assure student-athletes competing in, and visitors attending, next week's Men's Final Four in Indianapolis are not impacted negatively by this bill. Moving forward, we intend to closely examine the implications of this bill and how it might affect future events as well as our workforce."
These statements come after concerns raised earlier this week by Yahoo Sports analyst and the first openly gay pro athlete Jason Collins. He took to Twitter to voice his concerns about discrimination during the Final Four.
Additionally on Tuesday, Gen Con released a statement saying the bill will factor into their decision-making on hosting the convention in Indiana. After the bill was signed into law Thursday, Gen Con released another statement to its attendees regarding the convention's future in Indy.
Actor George Takei posted a statement on his Facebook page, which read in part, "If it goes into effect, Indiana will be marked as a state where certain people are not welcome, and so we will not visit. We will not spend. And we will not attend events, including Gen Con, the world's largest gaming convention, held in Indianapolis each year."
Indianapolis Colts punter Pat McAfee also joined in on the conversation:
@GovPenceIN When you sign this "freedom" bill, will a list be published of the businesses that were asking for this law to be passed?

— Pat McAfee (@PatMcAfeeShow) March 24, 2015
On Thursday, singer Miley Cyrus posted about the bill on her Instagram page.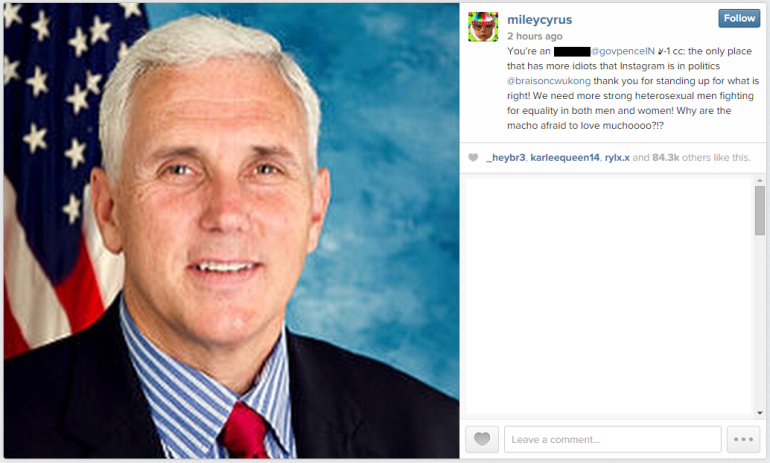 Thursday night Hillary Clinton also used Twitter to voice her opinion.
[protected-iframe id="37e52809f6b3cd4ad63cda25ef8151ea-41641915-58087967″ info="hash" class="twitter-tweet"]
On Friday, Apple CEO Tim Cook also spoke out.
Apple is open for everyone. We are deeply disappointed in Indiana's new law and calling on Arkansas Gov. to veto the similar #HB1228.

— Tim Cook (@tim_cook) March 27, 2015
White House Press Secretary Josh Earnest said on Friday, "…The signing of this bill doesn't seem like it's a step in the direction of equality and justice and liberty for all Americans.  And again, that's not just the view of the administration, I know that's the view of the Republican mayor of Indianapolis and a whole host of non-profit and private sector companies who have legitimate concerns about the impact of this legislation."
Ellen DeGeneres Tweeted a response Friday night:
For anyone who is refused service under #Indiana's new law, you deserve better. Acceptance and progress take time. But they always arrive.

— Ellen DeGeneres (@TheEllenShow) March 28, 2015
Former Indiana Pacer and NBA analyst Reggie Miller spoke out as well:
— Reggie Miller (@ReggieMillerTNT) March 27, 2015
Ball State University President Paul Ferguson:
"In the context of the current state and national conversation related to Indiana's recent legislation, it is important to reaffirm that Ball State University has long been committed to a vibrant and diverse community and will not tolerate discrimination. The university expresses this in many ways, including our Equal Opportunity and Affirmative Action Policy, which clarifies that Ball State will provide equal opportunity to facilities without regard to race, religion, color, sex, sexual orientation, gender identity/gender expression, physical or mental disability, national origin, ancestry, or age."
Indianapolis Colts Owner Jim Irsay:
The Colts have always embraced inclusiveness, tolerance, and a diverse fan base. We welcome ALL fans to Colts Nation. ONE FAMILY!

— Jim Irsay (@JimIrsay) March 30, 2015
NASCAR Senior Vice President and Chief Communications Officer Brett Jewkes released this statement on Tuesday:
"NASCAR is disappointed by the recent legislation passed in Indiana. We will not embrace nor participate in exclusion or intolerance. We are committed to diversity and inclusion within our sport and therefore will continue to welcome all competitors and fans at our events in the state of Indiana and anywhere else we race."
NIKE, Inc. President and CEO Mark Parker provided the following statement to the Human Rights Campaign (HRC), the nation's largest lesbian, gay, bisexual, and transgender (LGBT) civil rights organization:
"NIKE proudly stands for inclusion for all. We believe laws should treat people equally and prevent discrimination. NIKE has led efforts alongside other businesses to defeat discriminatory laws in Oregon and opposes the new law in Indiana which is bad for our employees, bad for our consumers, bad for business and bad for society as a whole. We hope Indiana will quickly resolve this."