This is an archived article and the information in the article may be outdated. Please look at the time stamp on the story to see when it was last updated.
INDIANAPOLIS, Ind. –Good Saturday afternoon! What a day! High temperatures reached the mid-60s and felt more like mid-April than January. The high temperature in Indianapolis was 66 degrees, just two degrees shy of tying the record 68 degrees from 1906.
Tonight we'll have clouds build in with a chance of a few showers and possibly a t-storm. Otherwise, expect a mostly cloudy sky with some areas of fog. The fog may be dense in spots across north-central Indiana where a Dense Fog Advisory is in effect from 1 a.m. to 10 a.m. Sunday. Temperatures will fall to the upper 40s with light southeast winds shifting east, northeast.
The map below shows the Storm Prediction Center's outlook for a chance of t-storms in central Indiana tonight (shown in light green). The other colors represent where there could be severe weather. That threat is greatest in the areas in red (moderate risk). There, they could see large, damaging hail and tornadoes.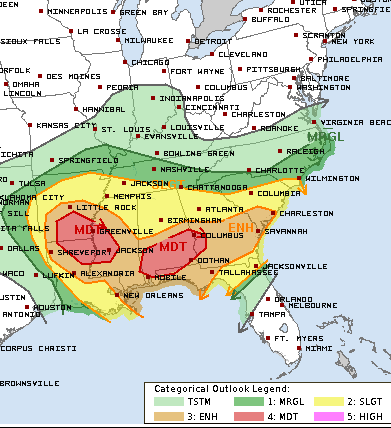 Scattered showers will be around on Sunday, especially in the afternoon and evening as a strong low-pressure system tracks to our south. Showers that move in will be coming from the east as the wrap around the central of the low. That same low pressure will bring more severe weather to the South Saturday night, a place that already got hit early Saturday morning.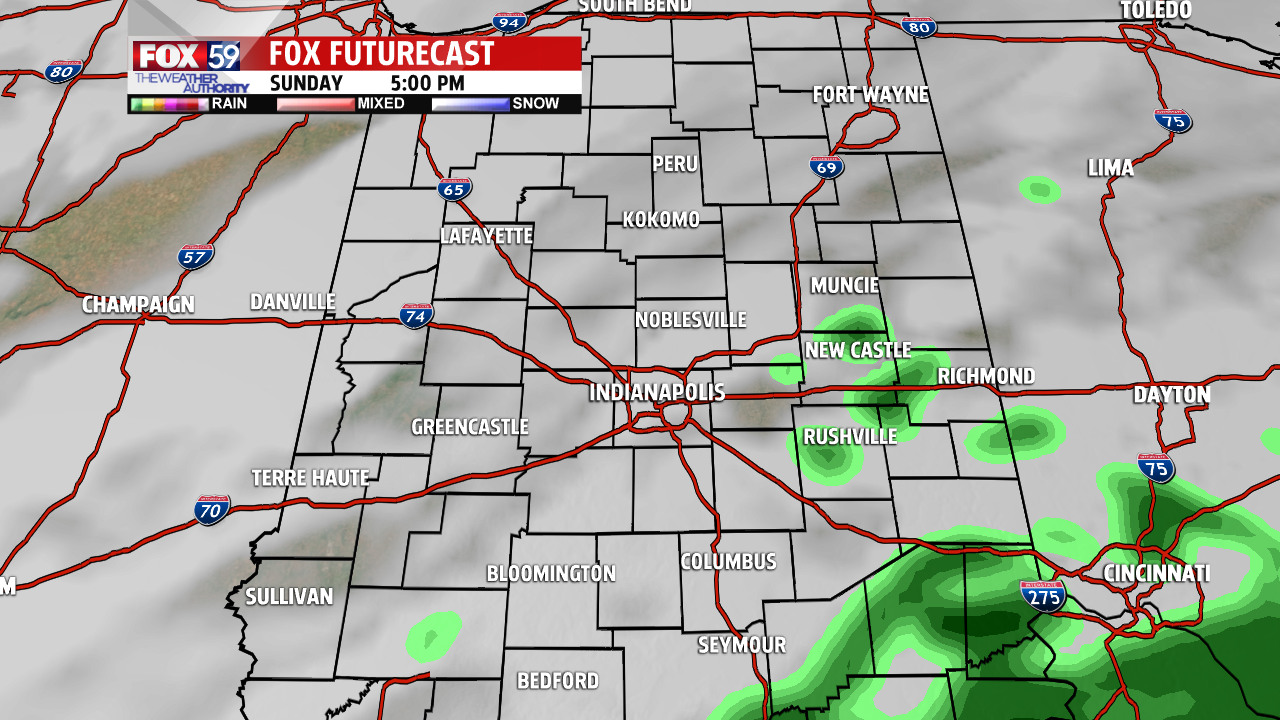 Showers will continue to be around central Indiana on Monday with strong north, northwest winds as the low departs.
Tuesday looks dry and mild with highs in the upper 40s. Changes will come Wednesday when a strong cold front moves in and drops highs from the low 50s early Wednesday down to near 30 degrees by Thursday morning. There's also a chance of some rain Wednesday and snow Thursday. If you were hoping for a "winter" feel, you're in luck. The long-range pattern favors colder weather. –Danielle Dozier