This is an archived article and the information in the article may be outdated. Please look at the time stamp on the story to see when it was last updated.
FRANKLIN (August 11, 2015) – Franklin Police and the Johnson County Sheriff's Department are crediting some alert neighbors for helping to stop a crime in progress.
Around 3 a.m. Tuesday, a couple guys walking through the City View Farm Apartments in Franklin noticed a white Buick running with no lights on in complex parking lot. They also saw a man who appeared to be looking into several car windows. They walked down the road and alerted a Johnson County Sheriff's deputy who was parked on patrol. When the deputy pulled into the apartment complex, the woman behind the wheel honked the horn and the man outside the car ran off. Then, the woman behind the wheel of the car tried to leave the complex. The car was stopped by the deputy on West Jefferson Street.
The deputy noticed a full backpack and multiple items inside the car, which are believed to have been stolen from several vehicles in the City View Farm Apartments, and the Lake View Apartments nearby.
The driver of the car, Kristina Sawyer, 30, and another woman in the car each gave different stories about what had brought them to the apartments, according to the deputy. But both women said the man they were with had been taking items out of cars and bringing them back to the Buick.
"We're getting a lot of people coming in, thefts from vehicles, thefts from homes," said Franklin Police Chief Timothy O'Sullivan. "A lot of it may be connected to drugs because that's how they're getting their money."
Sawyer was arrested after the deputy learned she was driving on a suspended license and had several outstanding warrants in Marion County. The other woman in the car was not arrested, but is considered a person of interest by Franklin police.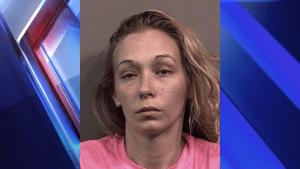 Johnson County Sheriff Doug Cox credited the alert residents for helping to stop a crime in progress. O'Sullivan echoed the sentiment.
"For them to call police and report something suspicious ended up in us collecting a lot of possible stolen items that were in the car," O'Sullivan said.
O'Sullivan says investigators have identified the man who ran away from the complex, but they are still searching for him.  He declined to release the man's identity as the search is underway. They were also working to contact the owner of the Buick to make sure it hadn't been stolen. The license plate did not match up with the car, and the same group of people may have been involved in the theft of a pickup truck in a nearby neighborhood.
In the meantime, police were expecting to go through the items inside the car, compare them to multiple theft reports and hopefully get everything back to its rightful owner.