This is an archived article and the information in the article may be outdated. Please look at the time stamp on the story to see when it was last updated.
Here comes a new batch of arctic air! Happy Friday everyone! The flakes have gotten bigger this evening but these snow showers will diminish from northwest to southeast as a arctic front passes. The winds are shifting to the northwest as the front passes, sweep the city of Indianapolis between 4 and 5 pm.
Snow showers will reduce visibility and create a few slick spots. Accumulation will likely be a few tenths of an inch to under 1" of accumulation. Visibility could briefly drop to near zero under some of the more robust snow showers.  The snow showers should ease quickly from northwest to southeast through 8PM.
POLAR EXPRESS ARRIVES TONIGHT
The arctic blast is a bold one, dropping temperatures tonight well into the single digits by Saturday morning. Combined with the brisk winds brace for a wind chill that could reach -15° early Saturday.
Sunshine will be out but temperature will only rebound to the low to middle teens in the afternoon.
Valentine's Day 2016 will be one of the colder on record.  The coldest high for a February 14th is 7° set in 1872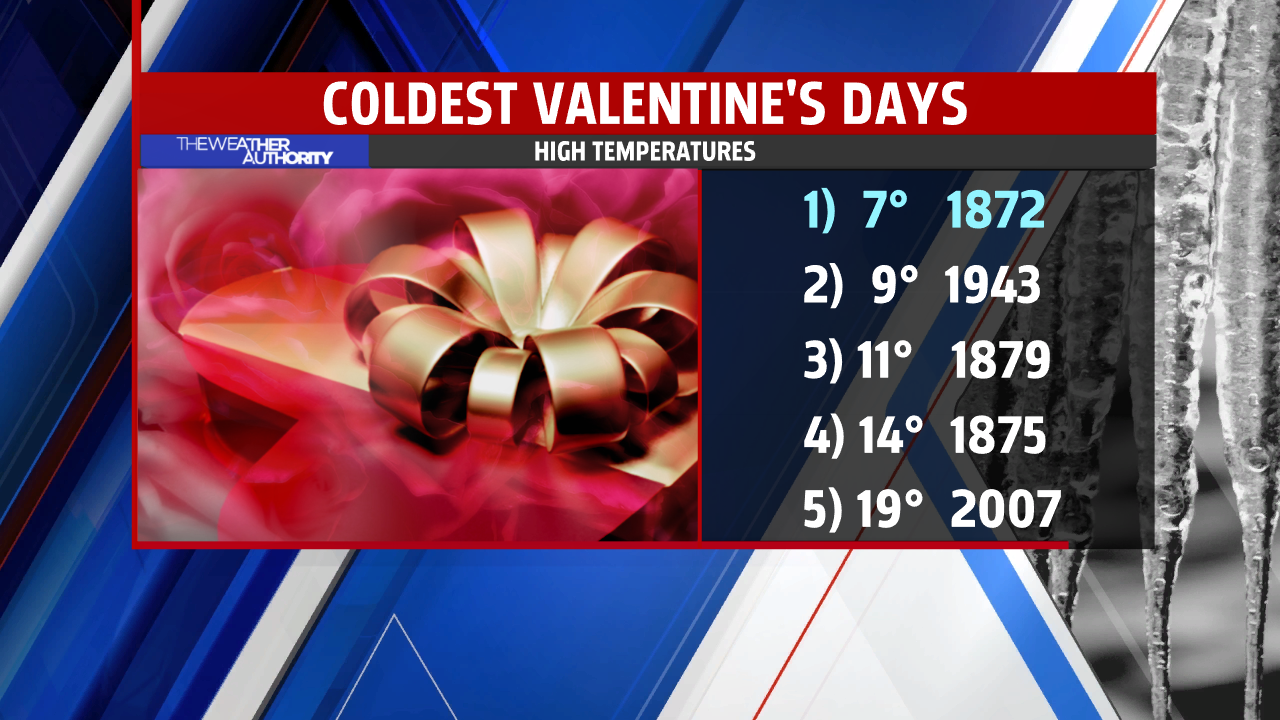 MY SNOWY VALENTINE
Snow will return on Sunday and it will stick. Snow will spread east as milder air try to push the arctic air out. A northern branch jet stream system will bring the snow in perhaps as early as mid morning.
As of tonight, we speed up the onset of snow for Sunday and have a much clearer picture of snowfall potential. The average off 7 computers places 2.2" of snow for Indianapolis with a range of 1.5" to 3.8".
Snowfall should be much more evenly distributed versus the snow squalls we experienced Monday Tuesday and aging Friday. I'm posting the NWS probability of 1" snow through Sunday night.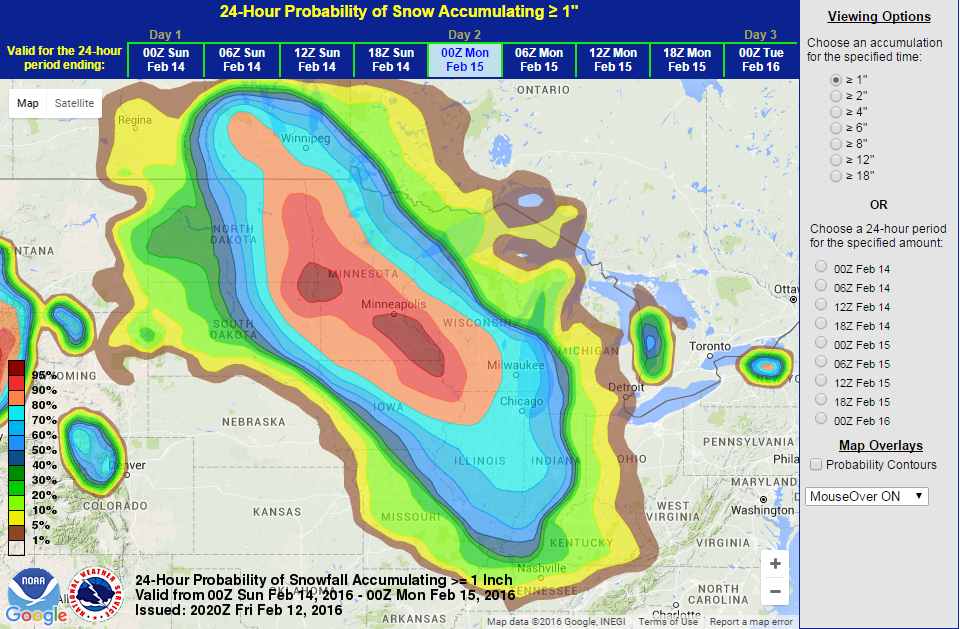 LATE FRIDAY EVENING computer runs have firmed up the idea of the snowfall Sunday will be on the higher end of the range.  We've upped the total  to 2" to 4" area wide by late Sunday.
It was just 2 years ago that we had the snowiest Valentine's Day on record.  5.5" of snow fell across central Indiana in 2014. Only 4 Valentine's Days have had 2" or more of snow on record.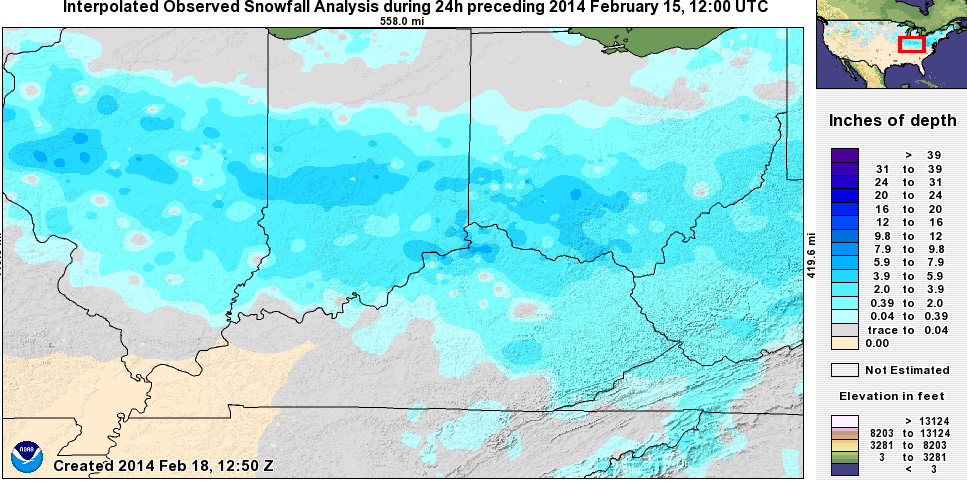 SOUTHERN STORM STAYS SOUTH FOR NOW
Sorting out the extended forecast, the southern branch of the jet stream will carry a secondary low pressure, storm system early Monday but all indications now is that it will remain separate from the Sunday system and stay south. 3 long range computers at this time all agree on the placement of the low Monday keeping most of the significant precipitation near and south of the Ohio river. Can this change? Could a more northerly track develop? Answer is yes at this distance, but later computer trends will be monitored for any such change and we will keep you informed.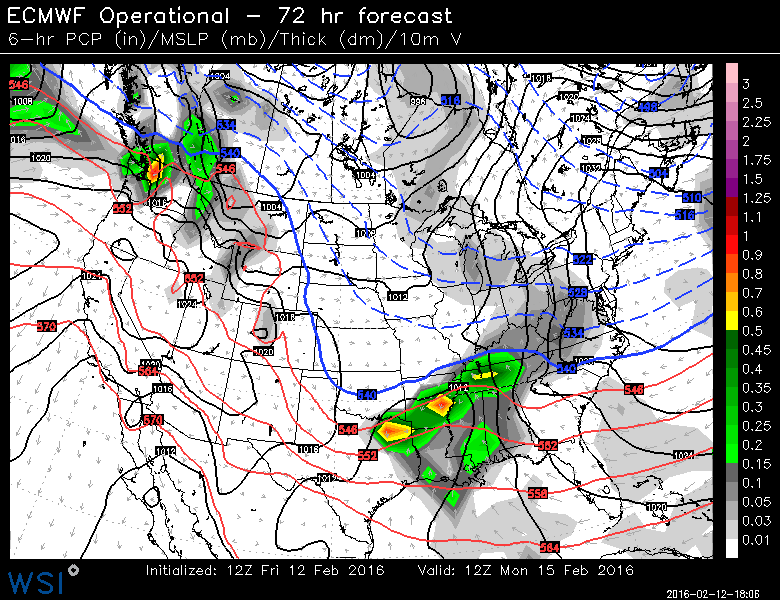 BONUS: How about a huge warm up late next week? Hints of 60° warmth by Friday! Have a great weekend and Happy Valentine's Day!