This is an archived article and the information in the article may be outdated. Please look at the time stamp on the story to see when it was last updated.
NEW CASTLE, Ind.-- A New Castle policewoman is home and recovering after she was shot in the chest of her bullet resistant vest while investigating a man suspected of committing vehicle break ins early Sunday morning.
Jarred Burke, 24, died after exchanging gunfire with the officer.
New Castle Mayor Greg York said the right training and the right equipment permitted his officer to survive.
"It made all the difference in the world. She had a vest on and she was shot right in the middle of the chest and if she hadn't had had her vest on…the vest did its job and saved her life," said York. "Yes she's sore this morning, but she's alive."
The confrontation began near K Avenue and Columbus Street on New Castle's south side shortly after 4 a.m.
Responding to a report of a man breaking into cars, the policewoman and her K-9, backed up by a rookie officer serving his first six months on the force, spotted Burke on a bicycle.
The dog took Burke down in an alley behind a church amid shouts for him to surrender.
"Seems like I could hear somebody screaming, 'Stop! Halt! Police!'" said neighbor Brad Marcum. "I know I could hear them yelling, 'Stop! Freeze!'"
Marcum said he heard at least six gunshots.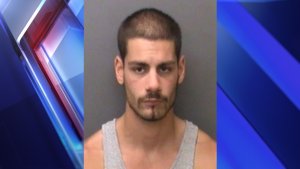 Burke was mortally wounded.
The policewoman was shot but not seriously injured.
"Six inches higher, six inches lower, it could have been death for one of our officers," said York. "When bullets are flying, it's a real situation."
York said just last week he witnessed New Castle police officers involved in firearms refresher training at a local shooting range.
"We always hate for there to be a death," said the mayor. "Certainly in an incident like this where there's a shooting we're sad that there was a life that was lost. Our hearts go out for that family. We never intend for that to happen, but when you are put in a situation that you have to react, you want to react professionally and we feel very confident that both of our officers worked together and worked very professionally by protocol of what they're supposed to do in this situation.
"There's never a good ending to a story like this but we feel very pleased that one of our officers didn't lose a life."
Police Chief Brad Catron said his officer will continue to rest at home in anticipation of her interview with investigators Tuesday.
The mayor said the shooting will serve as a teaching moment for all officers.
Burke had a mostly non-violent criminal and arrest history and was precluded from carrying a firearm as the result of a 2012 guilty plea to two counts of sexual misconduct with a minor.