This is an archived article and the information in the article may be outdated. Please look at the time stamp on the story to see when it was last updated.
LAFAYETTE, Ind. (March 10, 2015) - A blind, elderly woman in Lafayette says three armed men picked the wrong door. Police were called to her apartment on March 3 to investigate three men trying to break into her apartment. Pat Dienhart, 84, says she heard a knock on her door around 9 p.m.
According to court documents, the men were armed with a machete, knife, and pellet gun. They were wearing all black clothing and had bandannas covering their faces.
"I opened the door, maybe about, oh not very much, about 4 or 5 inches maybe," Dienhart explained.
She says after that, the men tried to force their way inside. They pushed on the door, but she says she pushed back.
She said she didn't have time to be scared and her adrenaline kicked in.
"I was mad. I was angry. Somebody was trying to get to me and I was angry," said Dienhart.
She may be elderly, but she didn't let that stop her. She was determined not to let anyone inside.
"I may not look like I could handle it, but I handled it," Dienhart said.
Dienhart is blind. She has artificial eyes and says she couldn't see anything. She thinks that's the reason she was targeted.
"I think they knew I was blind and they thought they could get money from me," Dienhart said.
A neighbor across the hall heard the whole thing go down.
"I heard her say, 'oh no you don't' and that's when I opened my door, instinctively I just opened my door and phew…through the exit door the three guys went," Richard Drook demonstrated.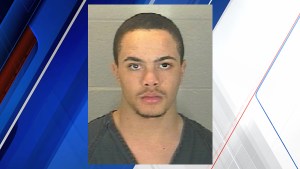 Dienhart says she's thankful he was watching over her and calls him her angel. She says it's because of him, the men ran away.
Police caught Luis Torres and a juvenile a short time later.
A third suspect escaped and is still on the run.
Torres is charged with burglary while armed with a deadly weapon, conspiracy to commit burglary and conspiracy to commit robbery.