This is an archived article and the information in the article may be outdated. Please look at the time stamp on the story to see when it was last updated.
INDIANAPOLIS, Ind. (July 22, 2015) – It's been nearly two months since 3-month-old Janna Rivera went missing.
The baby's father, Jeff Fairbanks, says he put Janna in a dumpster, but her body has never been located.
"Putting Janna in a trash receptacle, you hear it on the news all the time. I remember thinking to myself, 'what kind of a person does that?' But, those are different situations. Those are people trying to get rid of their babies. I wasn`t trying to get rid of my baby. My baby was already gone," said Fairbanks.
Investigators with the Indianapolis Metropolitan Police Department (IMPD) have told FOX59 Fairbanks is the only person of interest in this case.
Fairbanks told investigators Janna died in her sleep. At this point, Fairbanks has not been charged with a crime, even though he told investigators he put Janna's body in a dumpster.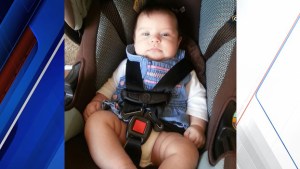 Fairbanks tells FOX59 he woke up around 1:30 p.m. on May 28 and noticed Janna not breathing next to him in bed. Fairbanks is adamant that he did not roll over on her.
"I remember that time because I looked at the clock after I found her. I picked her up. I just freaked. It was obvious. Her lips were blue. She looked normal. Her skin was normal, but she was limp. I just can't explain how that felt," said Fairbanks.
Fairbanks says at that moment he panicked. His other two children were downstairs. Fairbanks says he wrapped Janna in a blanket and ran out of the house with the baby's lifeless body. The baby's mother was at work.
"I didn't want anyone to see her like that," said Fairbanks.
Fairbanks told FOX59 he drove around Indianapolis for eight hours with Janna's body in the car. He also says he started drinking and became increasingly suspicious of everyone.
"While I was driving, I was crying and praying. Completely lost. I remember looking over at a person next to me at a stop light and thinking what they must be thinking. 'Do they know?'" said Fairbanks.
Fairbanks says he eventually went back to the Maison Gardens Apartment Complex where he lived and found a dumpster. Fairbanks says he took his 3-month-old daughter's dead body out of the car and left her in the trash bin. Fairbanks said the little girl was wrapped in a blanket and wearing a shirt and her diaper.
When asked if there was any doubt in his mind that the dumpster he identified was the one Janna was placed in, Faribanks said, "No doubt whatsoever."
He then told FOX59 he walked away from the dumpster, and did not return.
IMPD searched the dumpster, the landfill connected to that route and several nearby retention ponds day after day hoping to find baby Janna.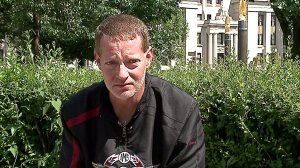 Police did find a blanket in the landfill that the baby's mother said belonged to Janna.
When asked if Fairbanks only put the blanket in the dumpster, he responded with "no," insisting that Janna was wrapped in the blanket while in the dumpster.
Fairbanks said he passed a lie-detector test to prove his innocence. Fairbanks also does not believe he committed a crime by not calling 911 or by putting Janna's body in a dumpster.
"I don't feel like I did anything wrong. I reacted the way I reacted because it was so horrifying," said Fairbanks.
Fairbanks says he told the baby's mother what he did that night when he got home.
IMPD says the mother called 911 the following morning to report her daughter missing. Deputies with the Marion County Sheriff's Office served a protection order against the Fairbanks a few days later.
IMPD issued this statement to FOX59:
The investigation is on-going at this time. Our investigators have followed up on every lead and every single piece of information that has been presented to them and will continue to do so going forward. Our investigators will continue to communicate with the Prosecutor's Office with any additional revelations that derive from this case.
Fairbanks believes IMPD has done their due diligence in trying to find Janna.
"I think they have done an overwhelmingly good job. I think in some strange way they have honored Janna because they have tried so hard," said Fairbanks.
Fairbanks is now asking for the public's help to find his daughter because he doesn't believe her body ended up in the landfill connected to the dumpster he says he put her in.
"Somehow I think she ended up in a place that wasn't the destination of the ride. Maybe somebody along the route of where she ended up knows something, saw something that they didn't think anything about," said Fairbanks.
When asked if he thinks police will ever find his daughter, Fairbanks said no.
"Knowing what I know, and knowing where they have searched and how long it has been. I think it is highly unlikely, unfortunately," said Jeff Fairbanks.
Raw clip of Nicole Pence's interview with Jeff Fairbanks:
youtube.com/watch?v=WaowK_v1DvM