This is an archived article and the information in the article may be outdated. Please look at the time stamp on the story to see when it was last updated.
INDIANAPOLIS, Ind. (March 9, 2015)– Indianapolis Metropolitan Police Department (IMPD) officer Greg Milburn was shot in the line of duty last year. He survived thanks to his bullet proof vest.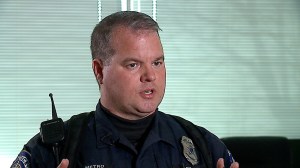 "I remember every detail like it just happened," said Milburn.
Officer Milburn responded to a disturbance call May 30 to a house on Dearbon. Julia Morrow, 84, called 911 for help. The ex-boyfriend of Julia's granddaughter broke into the home, armed with a gun.
Julia and Inity Morrow were killed by Quintico Goolsby, 36.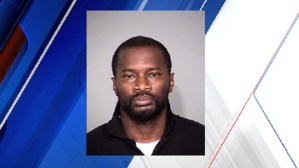 Milburn's rounds killed Goolsby and stopped him from hurting anyone else.
"Control. I've been hit in the abdomen. Suspect was on the north side of the house. Black male. About 27, 28 years old," said Milburn to Dispatch on May 30, 2014.
"He fired about four shots. I returned fire about five times. The only thing I could think of was to get description. This person had the audacity to shot a police officer, he would probably do it again. Now, I have extra plates for my vest. And I will never be separated from it. I am living proof the technology works," said Milburn.
Because of his bravery, Milburn is winning a Top Cops Award from the National Association of Police Organizations. Only ten cases in the entire country were chosen for the Top Cops award.
Officer Milburn and his family will travel to Washington DC in May for the awards ceremony.
Just weeks after Milburn was shot, officer Perry Renn was killed in the line of duty. The community raised money to get more protective vest plates for IMPD officers. Fundraising continues. 
IMPD is planning a community event in May to honor Milburn and celebrate the life of Julia Morrow in the Martindale-Brightwood neighborhood.
"I am just overwhelmingly proud. I love my job," said Milburn about the Top Cops award.
IMPD Chief Rick Hite added, "He was really fighting against tremendous odds. The guy fought the good fight. I am glad to hear he is being honored."