This is an archived article and the information in the article may be outdated. Please look at the time stamp on the story to see when it was last updated.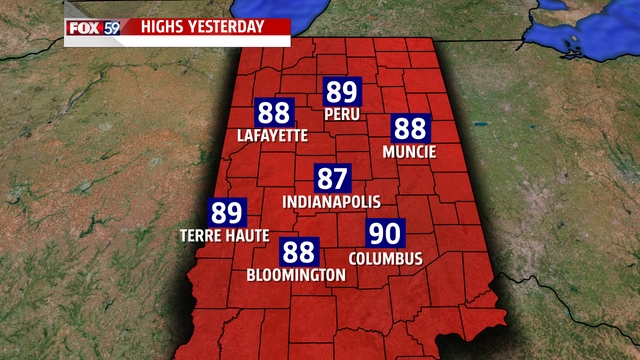 June 1st marked the start of Meteorological summer and right on cue we had the hottest day of the year.  Highs yesterday hit 87 degrees in Indianapolis and were generally a degree or two warmer outside of the city.  The hot spot for the third consecutive day was Columbus.  They hit 90 degrees on Sunday.  The previous two days they had hit 89 (May 30th) and 88 (May 31st) respectively.
It may be a while before we hit temperatures that hot again as a rainy pattern sets up this week with a series of weak fronts that will slide through.  The first front will arrive this afternoon into the overnight hours and will help to enhance rain and storms.  All eyes right now are on Wednesday when severe weather could potentially impact Indianapolis, Cleveland, Pittsburgh and Cincinnati.  Overall nearly 26 million people could potentially be in an area shaded for severe weather.  Large hail and gusty winds will be the main concern.
While rain chances are going up for today and this week temperatures as we said earlier will be going down.  Highs today will likely be near 80.  We should hit the mid to low 80s for a Tuesday high and will likely be near 80 degrees for Wednesday's highs.  Cooler air arrives behind Wednesday's storms with highs in the mid to upper 70s Thursday and Friday.  We warm up briefly as we head into the weekend with highs likely in the 80s both Saturday and Sunday.  There looks to be a pretty good chance for afternoon rain and storms on Sunday.