This is an archived article and the information in the article may be outdated. Please look at the time stamp on the story to see when it was last updated.
At a briefing Wednesday morning, authorities said the number of deceased animals found in a barn in Madison County is anywhere from 75 to 100 animals.
Officials were called to a property on 1700 North between 350 and 400 West, just north of Elwood, on reports of a foul stench Tuesday evening.  Dozens of horses, goats, sheep, geese, cows and chickens were found inside the barn. Sources said the animals that are still living are just skin and bones.
Authorities said the deceased animals were piled up, stating there were "bodies stacked upon bodies."
The Animal Protection League, Inc. has asked area farmers to be ready to take in sick animals. Veterinarians from across the state were also called in to treat the live animals, which officials were not able to move until Wednesday.
Sheriff Ron Richardson said the owners of the property are Daniel and Carrie Ault.  Richardson said the couple recently purchased a meat processing business, just inside Grant County.  Fox59 was told the Aults are also involved with the Strawtown auction in Hamilton County.
Officers were able to find Daniel Ault late Tuesday evening.  When questioned about the deceased animals, authorities said he stated he "just fell behind."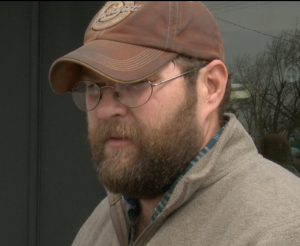 During a search of the property, authorities said they found evidence that humans were recently living on the property due to human feces found in buckets located in the barns.
"It's unfortunate, you know, in today's time with the economy, we see a lot of animals being dumped even more than in the past and in my career over 35 years I've never seen something this large," said Richardson. "It's very very unfortunate, but we've had several people stop last night and even a few minutes ago saying we'll help with the animals we'll adopt 'em."
Fox59 spoke with Carrie Ault, who stated the situation was "getting blow way out of proportion and they are trying to figure everything out."
Officials with the Indiana Department of Health will visit the property Wednesday to determine whether some animals should be euthanized.
If you would like to make a donation or inquire about possible adoptions, please contact the Animal Protection League at 765-278-9435.