This is an archived article and the information in the article may be outdated. Please look at the time stamp on the story to see when it was last updated.
CARROLL COUNTY, Ind. – Authorities located two bodies while searching for two missing Carroll County teens.
Police say the bodies were found in Deer Creek in Delphi about a half mile from the bridge. They are not releasing identifications on the bodies at this time, and they cannot comment on any injuries or trauma.
They say foul play is suspected, and they are currently conducting a death investigation. There is no information on any potential suspects.
At this time, authorities haven't officially called off the search for the two missing girls, Liberty German and Abigail Williams.
Officers initially responded to reports of the missing girls around 5:30 p.m. on Monday.
Police say they were supposed to be picked up by family members at a predetermined time and place, but when family arrived the girls were not there.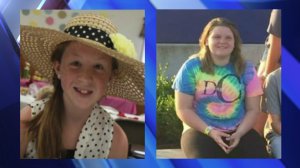 Family and friends immediately began to search for German and Williams in the nearby area. Police say they were last seen shortly after 1 p.m. near an abandoned railroad bridge known as "Monon High Bridge" just east of Delphi.
Officers looked into issuing an Amber Alert, but were informed this incident does not meet the criteria.
Multiple agencies were brought in to search for the girls on Monday and Tuesday including a K-9 unit and a dive team.
Police say German is 5'4" and heavy build. She has blonde shoulder length hair and blue eyes. She was last seen wearing a tie died shirt, fringed at the bottom, gray sweats with unknown black lettering, and black Nike shoes. They also say Williams was wearing a gray zip up sweatshirt with a burgundy t-shirt underneath and blue jeans. She was possibly wearing tennis shoes but no description was available at the time of the report.
Anyone with information which they feel may be important in this investigation should contact 911 or the administrative number of the Carroll County Sheriff's Office at 765-564-2413.
Delphi Police Chief Steve Mullin said he'll leave it up to the community to decide how they react to the incident.
"I think people are smart enough in our community to draw their own conclusions about what they should feel and what they shouldn't feel," said Mullin. "Our people are very smart, and it's a very good community, and they're very strong, and they're able to draw their own conclusions about this whole situation quite successfully."
The Delphi United Methodist Church will hold a vigil tonight at 7 p.m. The church is located at 1796 US-421, Delphi, IN 46923.
Delphi schools will operate on a normal class schedule. Events and extra-curricular activities at Delphi Community Middle School have been canceled for the rest of the week.
Counseling is available at the schools for those who need it.
Autopsies have been scheduled for 8 a.m. Wednesday, according to police.