This is an archived article and the information in the article may be outdated. Please look at the time stamp on the story to see when it was last updated.
INDIANAPOLIS, Ind. (Dec. 24, 2014)– A man accused of beating a toddler admitted to FOX59 the situation got out of hand on Monday when he disciplined his girlfriend's daughter.
Freddie Bailey, 24, spoke exclusively with FOX59 Wednesday afternoon, while he was behind bars at the Marion County jail. He has been preliminarily charged with aggravated battery and neglect of a dependent. The young girl's mother, Maria Calderon, 24, has also been preliminarily charged with neglect of a dependent.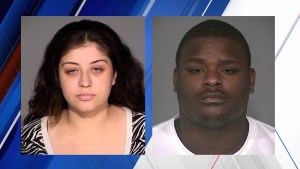 Authorities said the 3-year-old girl was taken to the hospital with multiple severe injuries.
"I just hope she wakes up – that is what I hope. Whatever happens to me, I don't care. I don't care as long as she wakes up," Bailey said.
Bailey said he would discipline Calderon's daughter at her request. He said the young girl had been in trouble for a couple of days in a row, leading up to Monday. Bailey said the young girl was supposed to stay in the corner, but was not listening.
"The first time I got up and I pushed her head back and then I sat there drinking and then she kept doing it and I kept pushing her head back into the corner. I didn't think I was hurting her 'cause she wasn't crying like that," Bailey said.
Bailey said he contacted the girl's mother after that. He also said he told the young girl to take a shower. Bailey described that he tried to give her CPR, when she started having a seizure.
After that, Bailey said the toddler acted like she was okay and even spoke with her mother when she got home. At another moment, he described that the 3-year-old girl fell asleep and she did not wake up. He said they rushed her to the hospital.
"You don't know how bad I feel. There's a 3-year-old girl in the hospital on life support because of me," Bailey said.
FOX59 contacted IMPD and representatives with the prosecutor's office. Both departments did not release additional information about this case.
"This is not me man. I know everybody (is) looking at me like (I am) a monster man. I would too. I see stuff, when people do stuff to kids, it sickens me man," Bailey said.
Calderon denied an interview with FOX59 on Wednesday. Bailey initially denied the interview request too, but changed his mind. He said he wanted people to listen to his side of the story.
"I never wanted this to happen to her. This is not something…I even saw coming. This is not me. I still can't believe I did it. I swear," Bailey said.
This case remains under investigation.
"I didn't mean for this to happen. I didn't try to…it's seriously a mistake. Everyone is going to look at me around the country like a monster. My momma won't talk to me after this," Bailey said.
Friend Jessica Pond also told FOX59 exclusively that the girl has a lot of love.
"If she ever saw you crying, all she wanted to was hug you and kiss you and make sure that you were okay," Pond said.
Pond says the girl is like her own daughter, and is dealing with this the best she can.
"She wanted everybody to be her friend and she thought everybody was her friend," Pond said.