This is an archived article and the information in the article may be outdated. Please look at the time stamp on the story to see when it was last updated.
SOUTH BEND, Ind. (June 8, 2015)– Two-and-a-half years and 140 miles away from a house explosion that rocked Indianapolis on a Saturday night in 2012 and killed two people, lead defendant Mark Leonard's long-awaited trial in the Richmond Hill case began.
St. Joseph Superior Judge John Marnocha presided over the opening statements by the prosecution and defense in a South Bend courtroom that will serve as home for the six-week-long trial.
Leonard faces charges including murder, arson, insurance fraud and conspiracy for spearheading the scheme to destroy girlfriend Monserrate Shirley's home in an engineered natural gas explosion in pursuit of an insurance settlement that would bail the couple out of financial straits.
After four alternate jurors were picked to fill out the jury panel, Marion County Prosecutor Terry Curry and John Longworth, father of victim Dion Longworth, and Don Buxton, father of victim Jennifer Buxton-Longworth, observed opening statements from the gallery.
The session began with a videotape of Marnocha reading the 53 counts of Leonard's indictment, including the listing of each victim whose home was damaged or who suffered injuries in the blast. It was a lengthy list of dozens of neighbors from the Richmond Hill community.
Leonard sat at the defense table between his attorneys and followed along on a paper copy of his charges. The defendant was dressed in a white shirt and striped necktie, his shackles removed so that he would not appear before jurors as a jail prisoner.
The jurors read their own copy of the charges as the videotape played.
Also named in the charges were Shirley and Bob Leonard, Jr., Mark Leonard's half-brother whom prosecutors blame for actually triggering the explosion on Nov. 10, 2012, by setting a time-delay device on a microwave oven to turn on and start the blast process in a home filled with natural gas from a disabled fireplace and step down regulator.
Deputy Prosecutor Denise Robinson began her opening statement describing November 10, 2012, as a "gorgeous fall day. One of those days when you kind of forget about what's coming in January and February."
Robinson said Shirley's neighbors at 8349 Fieldfare Way were out working in their yards and, presumably, would have noticed activities at the home at the epicenter of the blast that day.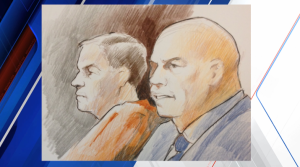 "Thirty-three homes were demolished," in the explosion, said Robinson, who explained many residents were up late that night watching a college football game.
"Notre Dame played Boston College," Robinson told the South Bend jurors as she cited the final score of the Fighting Irish victory on the way to an undefeated season.
"An explosion rocked not only the neighborhood but a substantial part of Indianapolis," said Robinson, indicating the sound of the blast was heard in Shelby and Johnson Counties as proof of the intentional destruction of the Shirley home.
Robinson said jurors would hear from Richmond Hill neighbors and then employees of Citizens Energy, the natural gas supplier to Shirley's home, who will provide a utility tutorial for the jury and explain why the Richmond Hill explosion could not have been accidental.
The State will bring investigators from the Indianapolis Fire Department (IFD) and the Indianapolis Metropolitan Police Department (IMPD) to explain to jurors how the crime was investigated and the charges were brought.
Witnesses and cell phone records will provide a link between the original defendants and two other men who also face charges, said Robinson.
The role of Mark Leonard's white van, which a neighbor told FOX59 News was at the house the day of the blast, will also be explained along with the evidence that was removed from the residence.
Robinson told the jury of six women and six men that charges were brought just  before Christmas of 2012, but earlier this year Shirley told prosecutors she had information to share against her co-defendants in exchange for a reduced charge and sentence.
"A plea agreement was offered to Monserrate Shirley for her testimony," said Robinson who told jurors Shirley faces 20-50 years for pleading guilty to arson, a Class "A" felony, or she could serve no time at all. "This case doesn't hinge on Monserrate Shirley. Her testimony provides inside knowledge about what Mark Leonard said to her."
Robinson then explained the conspiracy charges to the panel were indicated by an agreement to carry out a crime.
"The events of November 10 were not an isolated incident. This was planned," she said, referring to a previous failed attempt to ignite Shirley's house, including conspiracy to commit insurance fraud. "One of the whys is insurance."
Robinson said jurors will hear from representatives of State Farm Insurance who will testify that contents coverage on Shirley's house was raised to $300,000 and that two vehicles left in a garage were previously damaged and sacrificed to the conspiracy.
"This is about greed. This is about money," she said. "Death is an ugly business and fire, in my opinion, is ever worse."
Robinson's statement ended exactly 30 minutes later with a request to find Mark Leonard guilty.
Lead Marion County Public Defender Diane Black began her statements by telling jurors that "mercifully" Jennifer Longworth died instantly while a futile attempt was made to rescue John Longworth who commuted with firefighters and neighbors before his death.
While the emotional pain of the neighbors will call out for "the severest punishment possible," Black said the Richmond Hill explosion was "a stupid and selfish insurance fraud that went horribly wrong," indicating that perhaps the defense will argue that Leonard was overcharged by the prosecutor.
Black described her client as "desperate and in jail" and "ensnared in a plan" by Robert Smith, a police informant with a criminal record who will testify that Leonard plotted to have a witness killed.
The attorney told jurors that Smith provided antidepressants to Leonard in jail to convince him to kill a former friend in the mistaken belief that the loss of one key witness would force the case to crumble.
"An absurd plot to kill Mark Duckworth," Black characterized the scheme. "You're going to hear phone conversations of Mark Leonard…talking to a hit man."
The defense argued against introducing the hit man plot to the jury but was overruled by Marnocha and then used its opening statement to paint Leonard as an unwitting tool of the State and the informant to launch the murder-for-hire conspiracy.
Black sought to discredit Shirley's expected testimony by referring to a tearful FOX59 News on-camera interview when the homeowner claimed to be a victim.
The attorney referred to the "Voyles team," Shirley's legal representation led by noted Indianapolis defense attorney James Voyles, which negotiated the plea agreement.
Black said Shirley left a key piece of evidence out of her account of the conspiracy when she told Leonard's attorneys that her boyfriend disabled the step down regulator that led to the explosion.
With that the jury was dismissed to report back at 10 a.m. Tuesday morning to hear the State's first witness.
"I can't speak too much to what the defense said in the opening but there was some surprise there," said Robinson as she was asked about Leonard's team admitting their client participated in a disastrous insurance fraud plot that fits neatly in with the prosecution's motive explanation for the tragedy.
Curry pronounced himself pleased with the jury of six women and six men picked over the course of three days to hear the case.
"My experience has been that once individuals are seated in the courtroom and they hear the law from the judge they do what they feel is fair and I'm confident that is what will happen here."
Testimony begins at 10 a.m. Tuesday with IFD personnel and an emergency dispatcher slated to take the stand to be followed by a parade of Monserrate Shirley and Leonard's former neighbors.