This is an archived article and the information in the article may be outdated. Please look at the time stamp on the story to see when it was last updated.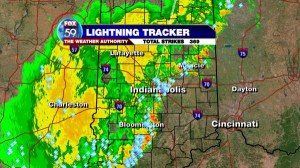 Severe wind threat has ended for now…flooding threat continues this morning after back to back days of heavy rain in spots!  Look for the steadier rain to ease this morning and breaks of dry weather this afternoon with highs in the upper 70s and lower 80s.   Another round of severe weather is possible later today into the overnight! 
I do expect a break in rain for early afternoon in some locations with the threat of more severe weather coming this evening…timeframe for now looks to be between 7pm and midnight…Jennifer will have more on this by afternoon as we get closer to tipoff for Pacers game and storm initiation…
SLIGHT RISK OF SEVERE WEATHER TONIGHT will pertain to damaging  winds, larger-sized hail and more local flooding…
Today:  Heavy morning rain eases…breaks in rain, muggy and breezy  High: 77
Tonight:  Storms redevelop with severe threat, more flooding   Low: 65
Sunday:  Breezy and less humid with a spotty afternoon shower  High: 74
Monday:  Partly cloudy, nice but cooler  High: 70
Tuesday:  Partly cloudy, dry and pleasant  High: 73
Wednesday:  Turning cloudy with showers possible  High: 74
THE LATEST FROM CHIEF METEOROLOGIST BRIAN WILKES:
SPRING 2013 ENDS COOLER AND WETTER THAN NORMAL
Meteorological Spring ends Friday (the months of March, April and May are the Spring months) and it was a wet one.  With 14.05″ of rain since March 1, this spring ranks as the 22nd wettest on record.
Temperatures did recover after a very cold March.  By March 31, 87 percent of the days were below normal, though, May has been warmer and offset the cold start to our Spring.  Spring 2013 ends with 55 percent of the days below normal.
JUNE BEGINS
The start of meteorological Summer starts June 1 with an average high of 78° and warming to a normal high temperatures to 85°.  June warming ranks 5th with the average high rising 7°. June rainfall averages 4.25″ (third wettest month on average).  We gain 11 minutes of daylight peaking on June 21, the astronomical start of Summer – which comes at 1:04 a.m.