This is an archived article and the information in the article may be outdated. Please look at the time stamp on the story to see when it was last updated.
GREENFIELD, Ind. (Updated: June 1, 2015) — The parents of a 1-year-old Greenfield girl who died Thursday were arrested on neglect and murder charges Friday.
Police started investigating the child's death Thursday after responding to a report of an unconscious child in the 500 block of North Wood Street around 9:30 a.m.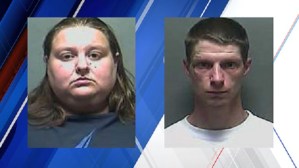 Matt and Jessica Wagoner were arrested Friday. Both are now in the Hancock County Jail.
When investigators arrived Thursday, the 1-year-old girl, Zoey, had a cut to her forehead, several bruises and was foaming at the mouth, according to court documents. The mother previously told FOX59 that the child was dropped earlier this week by a babysitter and then rolled off a bed Thursday.
However, court documents reveal the little girl died from blunt force trauma, and the manner of death was ruled a homicide. The autopsy showed that Zoey had cuts, bruising and hemorrhaging  to the face, lips, neck, buttocks and abdomen.The 1-year-old girl also had severe internal injuries to her intestines, pancreas and liver. Additionally, the pathologist discovered that both of the infant's arms had been broken.
Matthew Wagoner sent a text to Jessica saying that Zoey fell off of the bed and stopped breathing, stated court documents.
Investigators said Matthew walked to a a nearby convenience store to get a drink. He didn't think his daughter was dead but he knew something was wrong with her, according to court documents.  In order to get to the store, Wagoner passed by Hancock Regional Hospital and didn't stop for help. Investigators claim Zoey might have already been dead inside the convenience store.
Texts between the couple illustrate they hesitated to get help because they feared CPS would get involved.
Jessica said she didn't trust Matthew around her kids because he  has pending child exploitation charges in a neighboring county, according to court documents.
The couple pointed the finger at one another when questioned by investigators.
"Matthew stated that he saw Jessica smack Z.W. twice on Thursday morning…Matthew stated he heard Z.W. gasp for air when Jessica punched her," court documents read.
Jessica allegedly told investigators, "Why would he hurt my daughter?"
The investigator in the case wrote in court documents that Zoey "had lived in hell for a year, due to all of the multiple injuries throughout the year."
The couple denied FOX59's request for a jail interview. They make their initial court appearance Tuesday morning.