This is an archived article and the information in the article may be outdated. Please look at the time stamp on the story to see when it was last updated.
INDIANAPOLIS (April 29, 2014) – Police released surveillance images Wednesday of two men suspected in a burglary at the home of Pacers star Paul George.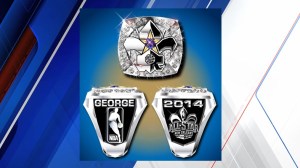 The theft happened while George was on the court at Bankers Life Fieldhouse Monday night during Game 5 of the playoffs. They men took several items, including George's $15,000 platinum NBA All-Star ring.
The NBA All-Star didn't have much to say to reporters during the team's Tuesday shoot-around.
"It's still being investigated, now," George said. "I mean, that's all I can say."
Head coach Frank Vogel had a few more words.
"Kick in the gut, so to speak," Vogel said. "You know you lose a game like that and then something like that happens, I mean, it's… it leaves a real bad taste in your mouth."
According to a report from the Indianapolis Metropolitan Police Department, the theft happened between 7:15 p.m. and 11:45 p.m. Monday at George's home on Diamond Pointe Drive in Geist. Police received a call about the burglary around midnight.
It was actually George's parents who discovered the burglary. They were in Indianapolis for the playoff game against Atlanta. When they got back to the house, they found an unlocked door and several items moved around. That's when they called police.
"Didn't find any forced entry, but we did discover that there were several items of note that were missing," said IMPD Sgt. Kendale Adams.
According to the report, the stolen items were valued at nearly $16,000. In addition to the $15,000 All-Star ring, a promotional box of 15 "Flux" watches were taken, as well as a pair of Air Jordan 4 Toro shoes valued at $170.
George's home has several security cameras, and the gate leading to Diamond Pointe has multiple cameras as well.
This isn't the first time George has been targeted in a theft.
In October 2012, someone stole the rims from his car while he and the team were playing the Chicago Bulls in South Bend.