This is an archived article and the information in the article may be outdated. Please look at the time stamp on the story to see when it was last updated.
COLDER NIGHT
What an open to the weekend!  It sure feels like spring has sprung as afternoon temperatures Friday climbed into the upper 60s to 70° – warmest afternoon of the work week.  Quietly, a cold front will slip through the city and settle south early Saturday morning delivering a bit of a chill to start the weekend.  Low temperatures will be colder overnight with 30s making a return.  Frost and possibly freezing temperatures are possible especially away frothed city.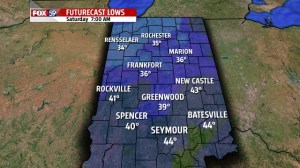 MULCH MADNESS
Spring fever is at a premium and the renewed taste of spring is tempting to get out and get that garden going.  Caution: April 17th is the average date of the last freeze here in the city and moving forward the chance of a freeze lowers but it is possible to still have a killing fronts as late as early June!..  The latest date of our last freeze in the city was May 26,1961
PERFECT SPRING WEEKEND
Saturday and Sunday could be as picture perfect spring weekend.  100% sunny skies are forecast Saturday afternoon and Sunday will warm into the 70s.  Only 5 days have reached 70° so far this year – the fewest since in 17 years (4 days 1997).
THIS EASTER SUNDAY – ONE OF THE WARMEST
70 degree day #6 of the season arrives Sunday and this will be the warmest Easter Sunday since 2010.  Easter 2014 will be only the 15th in 50 years above 70°.  The warmest Easter, 86° 1941 – snowiest 1972 .3"
RAIN CHANCES RETURN
Showers are expected to arrive her Monday – current rainfall projections range from as little as .07" to .28".  With a chance of a thunderstorm, locally higher amounts are possible.  Rain chances look best as a stronger system assembles later in the week.  It looked promising early this week for a warmer and humid system to develop with larger train totals.  Overnight computer runs have trimmed the warmth and the rainfall amounts but still bears better rainfall potential.