This is an archived article and the information in the article may be outdated. Please look at the time stamp on the story to see when it was last updated.
BLOOMINGTON, Ind.– A man was arrested after police said he broke into and vandalized the Planned Parenthood in Bloomington overnight.
Benjamin Curell, 27, was charged with burglary, a Class C felony, and criminal mischief, a Class D felony.
Officers with the Bloomington Police Department responded to 421 S. College Ave. at approximately 3:51 a.m. after receiving a report that a man was attempting to break into the facility. The officers located Curell inside the building, carrying an ax.   Police said he used the ax to cause "extensive damage" to the building and office equipment.  Additionally, police said he splashed red paint onto the building.
Curell told authorities he targeted Planned Parenthood because abortions were performed there.  Police said the man stated his intent was to damage the building because they "kill" and "murder" babies.  He told officers his actions were prompted by his religious beliefs.
Damage to the facility is estimated to be more than $2,500.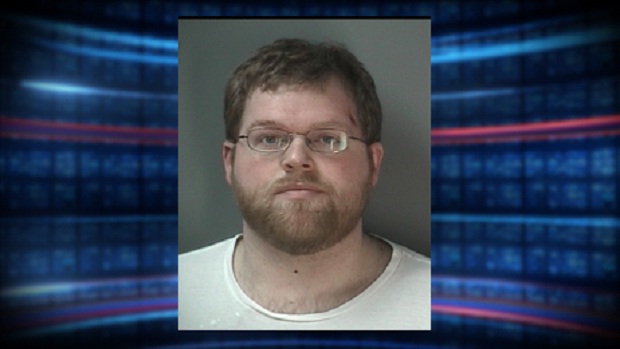 PHOTOS | Vandalism at Planned Parenthood
Curell was transported to the Monroe County Jail without incident.
Planned Parenthood of Indiana President and CEO Betty Cockrum released the following statement:
"First and foremost, we are extremely thankful that no one was in the building at the time of this incident. Our thoughts are with our staff, who understandably are quite shaken by this news.
"We are still determining the extent of the property damage, but we do know that the front door was destroyed, and the front office and some office equipment were also heavily damaged. We are happy to say that it appears no confidential patient information was accessed by this vandal.
"We are of course working closely with local law enforcement regarding this incident, but no matter what the case, this individual will not deter us from continuing our mission to provide preventive care such as birth control, Pap tests, testicular and breast exams and STD testing and treatment, in addition to abortion services, in Bloomington.  
"While the center is only open for limited purposes today, it will again be fully up and running as soon as possible.  We will protect our patients and our staff, and we will rise above, as we always do."