This is an archived article and the information in the article may be outdated. Please look at the time stamp on the story to see when it was last updated.
INDIANAPOLIS, Ind. (April 24, 2014) – A man was shot and killed on the city's northeast side Thursday night.
At around 10:20 p.m., Indianapolis Metropolitan police officers were conducting a robbery investigation in the 3600 block of North Whittier Place when they heard 20-30 gunshots coming from east of their location.
Officers searched the area and found a man lying on the driveway in the 3600 block of North Lesley Avenue. He'd been shot multiple times and was pronounced dead at the scene. Police identified him as Carlos Jefferson, 43, Indianapolis.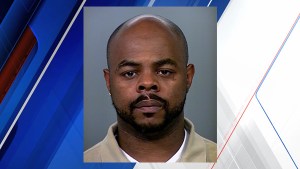 Detectives also believe a suspect may have left the scene in a black, 2010 Pontiac G6 with a handicap license plate. The motive behind the killing is unknown, but police said it didn't appear to be a random act of violence. They're still gathering facts surrounding the incident.
Anyone with information call the homicide branch at 317-327-3475 or Crime Stoppers at 317-262-TIPS (8477).
Callers may also text "INDYCS" plus tip information to 274627 (CRIMES).