This is an archived article and the information in the article may be outdated. Please look at the time stamp on the story to see when it was last updated.
INDIANAPOLIS, Ind.--
Three years after Brandon Morris was diagnosed with acute kidney failure, he received a life-saving gift from a childhood friend.
Morris' journey to find a new kidney began in August 2014 when he woke up in the middle of the night and couldn't breathe. He was rushed to the ER and was told his kidneys were failing.
Prior to that night, Morris didn't have any symptoms and he wasn't aware that he only had one kidney until he arrived to the hospital.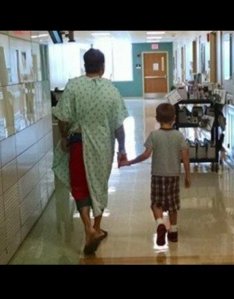 "I was put on hemodialysis for about three months and then I switched to peritoneal dialysis," said Morris. "I did 11 hours a night, seven days a week."
Morris' younger brother had planned to donate his kidney to Brandon but on the day of surgery, a few blood tests came back and doctors said the surgery had to be cancelled.
That's when Erin Strickland came along. Strickland grew up with Brandon and the two were close family-friends. When she heard that he needed help, she decided to get involved.
"I feel like we are not that different," said Stickland. "We had similar upbringings, we always had the same social circle and he was sick- and I wasn't and so, if I could help him not be sick and my life not change, why wouldn't I do that?"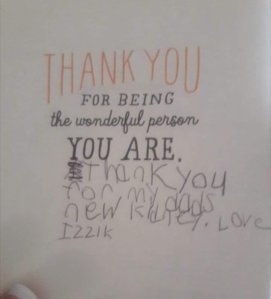 The surgery ran smoothly for both Morris and Strickland and seven months later, they're closer than ever.
"I feel like we are family," said Morris. "Me, her husband, her daughter, her mom, her sister, everybody. I mean we were friends before but now it just feels like we are literally family. It was definitely a blessing. She saved my life."
"We've grown super close. I would definitely consider them family. If we are having a gathering, it's automatic that they'll be there." ​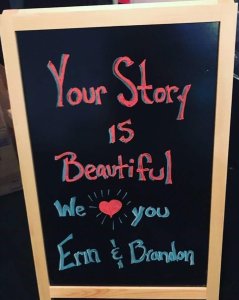 According to Indiana Donor Network, nearly 1,500 Hoosiers and more than 120,000 people nationwide are waiting for life-saving organ transplants. Nationally, another person is added to the transplant waiting list every ten minutes.
Just this summer, Selena Gomez had a kidney transplant. According to the singer's Instagram page, her friend Francia Raisa donated her kidney to Gomez. Gomez explained to fans that she struggles with the autoimmune disease, lupus.
"There aren't words to describe how I can possibly thank my beautiful friend Francia Raisa," Gomez wrote. "She gave me the ultimate gift and sacrifice by donating her kidney to me. I am incredibly blessed. I love you so much sis."
Erin said she hopes more people will consider organ donation. She said the process was much easier than anticipated and she was back to her normal life in just a few weeks.
Dr. John Powelson with IU Health was Strickland's kidney surgeon. "Heroic acts are rare nowadays, but kidney donors are true modern-day heroes," said Dr. Powelson.
If you are interested in becoming an organ donor, click here.