This is an archived article and the information in the article may be outdated. Please look at the time stamp on the story to see when it was last updated.
INDIANAPOLIS, Ind. – The Pike Township Fire Department stepped in to help a nurse when she got a flat tire.
Misty Caldwell is a night shift nurse at St. Vincent Hospital. Yesterday she was on her way to work when her low tire light came on. She pulled into the Marathon gas station off of Michigan Road and I-465 to check on it, and she realized she had a flat tire.
"There were five men that walked past me and totally ignored my situation, countless number of people driving by that watched me struggle with trying to get the lug nuts off…I'm sure laughing," Caldwell told FOX59.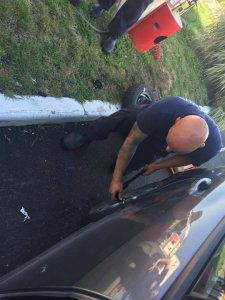 Caldwell's husband, who is a firefighter in Avon, was in Florida for a business meeting with Avon's assistant chief.
She called her husband to tell him about the flat tire, and the assistant chief overheard the conversation. So he called in a favor from the Pike Fire Department.
A few minutes later, the men from the Pike Fire Department station on 86th showed up to help.
"I wasn't expecting anyone to come help. They showed up and took over!" Caldwell said.