This is an archived article and the information in the article may be outdated. Please look at the time stamp on the story to see when it was last updated.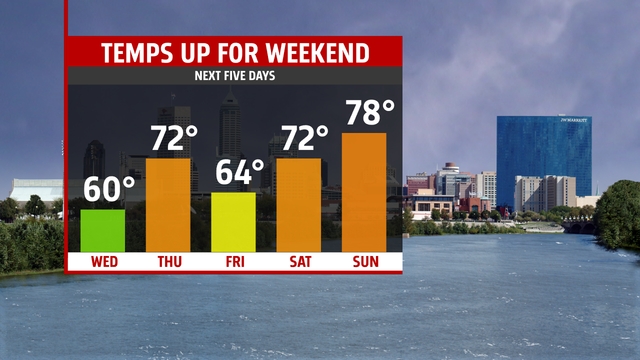 You can expect another gorgeous and cool day Wednesday with temperatures slightly below the seasonal average for this time of the year.  The average high is 66°.  Our highs will be close to the 60 degrees we hit Tuesday.  Northerly winds throughout the day will continue to pull in cool and dry air, but I think the clear skies will help to keep our highs near what we saw Tuesday if not a degree or two warmer than the 60 we hit.
Our rain chances start to creep up as we head into the weekend with a couple of quick rounds of rain possible on Thursday and Friday.  I'm hopeful that the weekend will be dry with rain arriving once again on Monday morning.  Monday and Tuesday of next week look soggy with a decent chance for rain and storms sticking around.  We could be looking at rain totals for the 48 hours topping an inch of rain with higher totals possible in isolated instances.
While Wednesday will be cool, we warm up as a warm front passes overnight.  We hit the 70s for Thursday with a dip back into the mid-60s for Friday.  We will be warmer again on Saturday, with possibly the warmest day so far this year occurring on Sunday.  I am forecasting a high of 78 for Sunday right now but that could go up as we get closer to the day.  Temperatures won't be as warm on Monday or Tuesday of next week thanks in part to expected rainfall.  Highs on Monday will likely be in the low 70s with highs returning to the 60s for Tuesday.  Enjoy your day!