This is an archived article and the information in the article may be outdated. Please look at the time stamp on the story to see when it was last updated.
INDIANAPOLIS, Ind. (July 15, 2014)– Indianapolis Metropolitan SWAT officers were involved in a shooting early Tuesday morning. No officers were injured, but the shooting left a teenage suspect in critical condition.
Two of the three SWAT officers who engaged the suspect were shot back in March while they were serving a search warrant at a southeast side home in the 1600 block of State Avenue. During the March 5 incident, a total of four SWAT officers were shot and 27-year-old Andrew Sizemore was killed. The officers were serving a high-risk narcotics warrant at the time.
Just over a week after Officer Perry Renn was killed by gunfire piercing his protective vest, the SWAT officers were once again confronting an armed suspect.
"They pin the badge on every single day, knowing what the risks are," said Lt. Chris Bailey.  "And despite their grief, they know the job has to go on, that we still have a job to do and we still have to protect the citizens of Indianapolis."
In the latest incident Tuesday morning, the officers were already patrolling the area near Harding and Pruitt streets on the near northwest side when they heard shots fired. They saw a man firing shots at a car with four people inside, said Lt. Chris Bailey.
"Our officers were in the right place at the right time," he said.
Bailey said the uniformed officers got out of their unmarked vehicle and identified themselves to the suspect. The man turned toward them with a handgun and officers fired at that point, hitting the suspect.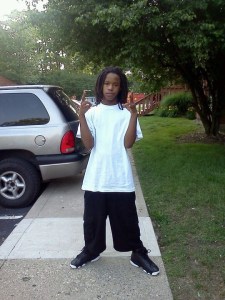 Police identified him later Tuesday morning as 18-year-old Javon Wilkins.
Police said he was in critical condition at Eskenazi Hospital where he had surgery for his injuries. Detectives would not release how many times he was shot or where he was hit. Only one of the officers fired at Wilkins.
Police records indicate Wilkins has a long history with police, starting with a Burglary arrest when he was 9-years old.  Later arrests involved drugs and counterfeit money.
No one else was injured. Witnesses inside the car were cooperating with investigators.
Tuesday morning's shooting marked the third incident of shots fired in the area in the past three nights.
Since September of last year, nearly 30 IMPD officers have been involved in incidents of shots fired. Officer Perry Renn was shot at killed in the line of duty July 5.
"There are certain people in our community that just don't get it. You can't go around shooting at people and police officers, it's  just not acceptable and it's not going to be tolerated in our city," said Bailey.
He encouraged anyone with information about the recent crime in that area or Tuesday's shooting to come forward by calling Crime Stoppers at (317) 262-TIPS.
"I think citizens are getting fed up with it. We're getting more and more information from our community. They're providing more information to us that we wouldn't have gotten in the past and we appreciate that. We can't do this alone," said Bailey.