This is an archived article and the information in the article may be outdated. Please look at the time stamp on the story to see when it was last updated.
INDIANAPOLIS, Ind. (Dec. 10, 2015) – A traffic stop led to a chase and police action shooting that left a man in critical condition, police said Thursday.
According to Indianapolis Metropolitan Police Department Lt. Richard Riddle, an officer made a traffic stop around 1:30 a.m. for a license plate violation, but the vehicle took off and officers pursued. Officers saw the man run into a home in the 2100 block of Conrad Avenue. That's on the near southwest side of Indianapolis.
Police identified the suspect as Jason Bryant, 34, of Indianapolis.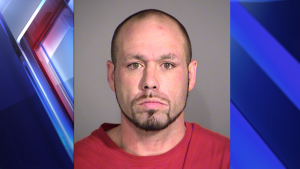 Police obtained a search warrant and then entered the home around 5:30 a.m. Riddle said Bryant confronted the officers with a gun in a back bedroom. Two officers opened fire and struck the suspect, who was taken to Eskenazi Hospital in critical condition. He later succumbed to his injuries.
A .380 handgun was recovered after the search.
Police said the truck Bryant was driving had been stolen from New Whiteland on Nov. 23, 2015. No officers were hurt during the incident, Riddle said.
Bryant was out on bond for a separate criminal case, in which he was charged with dealing and possession of methamphetamine over 10 grams and being a serious violent felon in possession of a handgun.
Officers involved in the shooting will be placed on administrative leave, which is standard procedure in such cases. The shooting remains under investigation.