This is an archived article and the information in the article may be outdated. Please look at the time stamp on the story to see when it was last updated.
Update: Police have released surveillance video of a person of interest in this case. Read more here.
Original story:
INDIANAPOLIS, Ind. – Detectives with the Indianapolis Metropolitan police are investigating a murder after a woman's body was found at a fitness facility near the downtown canal Friday morning.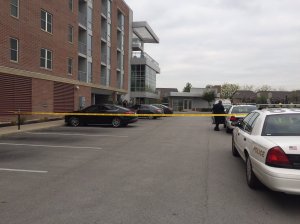 Officers were called to 335 West 9th Street around 6:30 a.m. after a person was found dead at that location. Officers said the body was discovered on the second level of the building, which houses the gym for 9 on Canal apartments.
Police say there were obvious signs of trauma on the woman, but they don't believe she was shot. Detectives expect to know more after an autopsy is completed in the coming days.
Detectives have not released any suspect information at this time, but they say they are following-up on some promising leads.
Police are asking anyone with information about the crime to call Crime Stoppers of Central Indiana at 317-262-8477 or (TIPS).