This is an archived article and the information in the article may be outdated. Please look at the time stamp on the story to see when it was last updated.
UPDATE (June 3, 2019) — Jason Howard was sentenced to 365 days, with 185 days suspended, after pleading guilty to theft in Hamilton County. He'll serve the 180 executed days with the Hamilton County Community Corrections Electronic Home Monitoring Program along with 185 days of probation.
UPDATE (Feb. 26, 2018)– Jason Howard pleaded guilty to two counts of theft, and two counts of possession of a narcotic drug were dismissed. He was sentenced to one year, which was suspended. This was for his charges in Hancock County only.
Original story:
FISHERS, Ind.– A former paramedic faces several charges after police say he stole drugs from ambulances and fire trucks in five Indiana counties.
Jason Howard, 41, was arrested Monday at his Fishers home on felony drug possession charges and misdemeanor theft charges. He was booked into the Hancock County Jail.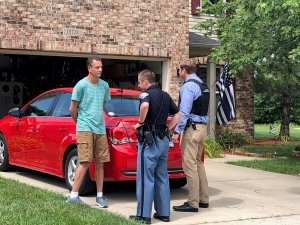 Indiana State Police (ISP) investigators say Howard admitted to taking fentanyl and replacing it with saline solution.
The investigation started in late May, after Greenwood Fire Department officials discovered evidence that several vials of fentanyl on two ambulances had been tampered with.
It was also found that someone made several attempts to get into the lock boxes the drugs are stored in.
A statewide audit of all Seals ambulances in Indiana revealed a total of 34 vials of fentanyl had been tempered with in five different counties, dating back to March.
A review of ambulance employee schedules led investigators to Howard, who they say was working in each county when the thefts happened. Investigators say Howard wrote a confession saying he took the fentanyl and replaced it with saline.
He would use the drug on himself because of a mass on his right side, according to police.
"This stuff is to be used in an emergency situation by emergency personnel, and those protocols were broken," said ISP Sgt. John Perrine.
A spokesperson for the Tennessee-based Seals Ambulance Service says Howard passed a criminal background check before he was hired. The company issued this statement:
"Last month, Seals Ambulance's internal audit and security procedures uncovered a possible drug diversion within its operations.

"Based upon internal investigation, the company identified the individual responsible.

"The individual is no longer an employee of Seals Ambulance, and we encouraged him to seek help for his addiction."
As of now, only the Hancock County prosecutor has filed formal charges against Howard. It's unclear if or when the other counties will follow suit.